Towson turns 150 years old in 2015. To celebrate, The Towerlight is going back in time for our presentation.
The cover features pictures going back to 1990 to show how far Towson has come, and the fonts used for our headlines date back to the very early days of The Towerlight, showing the evolution of our work through 2014. From news to sports, we look at the best to come in the coming calendar year.
TU preps for 150th events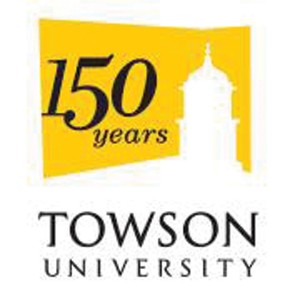 As 2014 comes to an end, Towson will begin preparation for the 150th Anniversary Celebration that will commence in May 2015.
Louise Miller, the director of integrated marketing services, is assisting in the execution of the event with alums Myrna Cardin (class of '65) and Gerry Gaeng (class of '81) who are co-chairs to the celebration.
While Towson won't officially turn 150 until Jan. 15, 2016, the yearlong event will begin in May 2015 due to Towson's complex history.
"The school was supposed to open in September 1865, and Baltimore City was supposed to provide a building here in this area, but they kept delaying it and the school ended up renting a building and opening its doors officially in Towson in January 1866," Miller said. "Technically, the first class graduated at the end of the 1865-66 academic year. Back then, at the time, the curriculum was one year long; the first graduating class, most who had already been teaching for years, finished in one semester."
This event is an opportunity to share Towson's history, achievements and contributions since its founding. It is also a time to bring alumni back into Towson culture and attract new supporters and students.
"During the brainstorming sessions from the student involvement committee, someone mentioned having more interaction with alumni. They had an idea to showcase the top 150 alumni as a sort of countdown to Homecoming in 2015. We also had an idea for speed networking with alumni," Miller said. "It's a great way to meet with people who not only are involved in the same field that you may be interested in but, also graduated from the school you attended."
A new logo will be presented during the anniversary year, designed by assistant director of creative services and alum David Calkins.
During the 150th year celebration, there will be key "signature" events, a combination of academic conferences and lectures, alumni gatherings, student celebrations, athletic events, performances and exhibitions.
"We narrowed it down and are still narrowing it down to five signature events for the year. There will be something happening every month, but  [there are] five key events," Miller said. "Each college and the library will have a week long visiting scholar. So for the arts building, it might be an artist. For CLA it might be an author or a poet, each college will get to decide for themselves."
To get more information as well as follow the 150th celebrations go to https://www.facebook.com/TU150th.
Loeschke's return date still unkown
For the second time in six months, control of Towson's president's office is expected to switch hands in 2015, when Maravene Loeschke returns to the office after taking a semester off for medical and personal reasons.
In August, Loeschke announced her leave, with Timothy Chandler, Provost at the time, taking over as acting president.
No official date for her return has been set, according to Chandler.
"I'm supposed to be in this role until such time that she and the [University System of Maryland] Chancellor says, 'OK, sign off' and the president will sign back on again," he said. "That date has not been determined. As soon as it is, I will know, and then students will know. But that's between the president and the Chancellor."
Outgoing USM Chancellor William Kirwan is set to leave his position at the end of 2014, and no replacement has been named for the position yet.
Over winter break, the first milestone for Loeschke would be to attend the Maryland general assembly hearings concerning the University's budget.
Looking into the next year, Chandler said he is most excited to see what comes of the 150th anniversary celebrations.
"There'll be a lot of planning that's being done," he said. "All of the academic units will look at how they'll contribute to what is a year-long celebration. That'll take some serious planning."
If Chandler returns to his position as Provost, he said he'll have plenty of experiences gained as acting president that he can take back to the office.
"There have been times when I've wondered, 'How do I do this?' In general, I've had wonderful help," he said. "The place is very well-organized and runs pretty well, whether I'm here or not."
Debate holds up 101 York Road project
After three community input meetings, the 101 York Road development project is moving into its next stage: hearings under the Hearing Officer.
101 York Road is a proposed off-campus student housing project that would be located off the intersection of York and Burke, next to Starbucks.
The project has faced significant community opposition, with residents of Towson who live near the planned site saying that they're worried that traffic will get worse and students who live in the building will park out in the community.
The group behind the project, DMS Development, however, had a parking study done and says that there will be sufficient parking for students.
Members of the American Legion, a group which has been very vocal in their opposition to the project, were unable to make it to the second meeting. This is probably why a third meeting was necessary, Project Manager for the Baltimore County Government Department of Permits, Approvals and Inspections Jan Cook said.
The hearings for the project will start on Wednesday, Jan. 7 and take place on weekdays until Thursday, Jan. 15 at 10 a.m. in Room 205 of the Jefferson Building on West Chesapeake Avenue.
The hearings are meant to be an exchange between the developer and county government, not a time for public comment.
Following the hearing, the administrative law judge who is overseeing the case will have 15 days to write an order, and there will be a 30-day period in which anyone could appeal the ruling. The currently proposed project will rise 13 stories and house 611 beds for students with 495 parking spaces. The complex would include some spaces set aside for street-level retail and underground parking.
The plan could change, however, depending on how the judge writes the order and whether or not there are any appeals.
Hogan's plans for higher education unclear
Governor-elect Larry Hogan will be sworn in on Jan. 21, making it the first time a Republican has held the state's highest seat since incumbent Martin O'Malley took the oath of office in 2007.
Hogan has never held an elected office before, but served in Governor Bob Ehrlich's administration from 2003 – 2007. Hogan won the 2014 election with 51 percent of the vote, beating out Lt. Governor Anthony Brown.
Hogan has not said much explicitly about what his plans are for higher education.
University System of Maryland Student Council President Zac McGee expressed some worry about the incoming governor because of his lack of public policy history.
"With Anthony Brown, we had a history and a connection through Governor O'Malley," he said. "That being said, I think that this will be an opportunity for the USMSC to prove to the state just how vital higher education is in terms of receiving state funding."
In a previous interview with The Towerlight, Hogan said that he was leading the fight against tuition increases in the state. He also said that young people in Maryland are having difficulty finding jobs and are leaving the state because of it.
"My entire focus is on turning the economy around so that we can create more opportunities and more jobs for students coming out of school," he said.
Leaders in higher education have set a goal to increase the number of adults in Maryland who have a college degree from 45 percent to 55 percent. In an interview with The Baltimore Sun, Hogan said that it would take more than "arbitrary goals" to make Maryland a more competitive state.
In that same interview, Hogan said that he would require state-funded institutions to equip students with skills that are "in demand in today's marketplace."
During the discussion on potential mandatory student fee increases for next school year, Vice President for Student Affairs Deb Moriarty said the University doesn't have a feel for what policies Hogan's administration might make regarding tuition increases, because he simply doesn't have a history in higher education.
More construction planned for 2015
2014 saw some big construction projects: The West Village Pedestrian Bridge and the newly-turfed Burdick Field. Also, ground was broken on the new on-campus residencies in West Village.
"What you'll see is the foundations going in almost immediately after the first of the year, then walls going up over the course of the spring, and it'll go from there," he said.
The connecting walkway between Newell Hall and Cook Library has been completed, but is left unopened because of an "inadvertently blocked stormwater line," according to Guckert. Guckert said that he's been told that the walkway will be open by the first of the year.
A bigger project, set to start in June, is the expansion of Burdick Hall.
According to Guckert, the plans are for the building to expand "right up against the new turf fields."
The renovations will also include an extension of the West Village pedestrian bridge.
And, while actual work isn't set to being until 2016, the spring semester will see renovations being designed for Residence Tower.
"It's a total redesign," Guckert said. "It's pretty much being stripped down to bare walls and starting over."
He also said that, once it began, the project would last a year.
Also coming in 2016 is the construction of a new science building. The building is planned to go in between Stephens Hall and 7800 York Road.
Movie franchises get next installment
The New Year promises to be one for the record books.
Several franchises are being rebooted, sequels are on the way and it's a good time to be a comic book or novel fan.
1. Vin Diesel and company return for their next ride with "Furious 7," opening April 3.
When the brother of one of their enemies comes seeking vengeance, the team attempts to end it once and for all.
This is the first film in the "Fast and Furious" franchise since the death of actor Paul Walker.
2. Marvel gives us one of the most anticipated films of the year with "The Avengers: Age of Ultron," opening May 1.
Ultron (James Spader) attempts to destroy the team and the world with his own brand of justice.
Two new characters are introduced to the franchise in this film as well: Quicksilver and Scarlet Witch.
3. Fourteen years after the last film, the park is open with "Jurassic World," premiering June 12.
Viewers can look for Bryce Dallas Howard and Chris Pratt who were added to the franchise in an attempt to restore it to its former glory.
4. Another anticipated movie would be "Spectre," the next chapter in the 007 franchise that features Daniel Craig returning to the role of James Bond, opening Nov. 6.
5. The finale of The Hunger Games franchise "The Hunger Games: Mockingjay Part 2," opens Nov. 20 and is highly anticipated, especially after the recent release of part one this year.
6. One sequel that has been over thirty years in the making that will have everyone talking is "Star Wars: Episode VII: The Force Awakens," opening Dec. 18.
The trio of Mark Hamill, Harrison Ford and Carrie Fisher are returning to their iconic roles as Luke Skywalker, Han Solo and Princess Leia.
Other past cast members are also returning. The studio is planning a new trilogy and spin-off films as well for the franchise.
7. Tom Cruise is back as Ethan Hunt for the fifth installment of "Mission: Impossible," opening Dec. 25 with Ving Rhames, among others, returning.
These are just some of the most anticipated films of the year.
Believe me when I say this is just the tip of the iceberg. I hope you get a chance to see some of these films in the New Year.
Football looks to rebound after down season
The 2014 season was one that Towson will want to forget, but let's not forget what happened in early January of this year. Towson made it to the Football Championship Subdivision Championship game in Frisco, Texas, and the program's profile was raised as a result.
After finishing this season with a head-scratching loss to Rhode Island, Head Coach Rob Ambrose immediately began recruiting for the future to make sure his team didn't finish 4-8 again in 2015.
"[This season] was disappointingly inconsistent," Ambrose said after the Rhode Island game. "And that's nobody's fault but mine. I know that will change next year."
Looking to cash in on the 2013 season's success, Ambrose will look to add a 2015 recruiting class that can compete immediately, much like offensive lineman Jesus Barrio and running back Dontea Ayres did last season.
Although most of the 2015 recruiting class is uncertain, Towson has received a commitment from Devin Hannan, a 6-foot-4 offensive lineman from Belle Vernon, Pennsylvania, according to Rivals.com. The rest of the class will be revealed during the spring practice season.Ambrose said that he has no doubt that he can still sell the successes of the 2013 season when recruiting, much like he did last year.
Towson will most likely see more contributions from its 17-man recruiting class from 2014 — one that included Ayres, Barrio and quarterback Ellis Knudson. Knudson did not play in 2014, but could compete with Connor Frazier for a starting spot next season.
Ambrose said that Frazier will definitely compete for the starting role next year, but "there are no returning starters on this team."
The young and banged up offensive line will return in 2015 with a full year of experience under its belt. Players like sophomore Sam Evans, freshman Antonio Harris, sophomore Shayne Sullivan, junior Jake Schunke and Barrio will compete for starting spots on what should be an improved line.
One player that will be happy with improved play along the offensive line is sophomore running back Darius Victor, who will return as the reigning Colonial Athletic Association rushing leader. Victor will be one of the more dynamic rushers in the FCS next season.
On defense, Towson will lose three stalwarts in Ryan Delaire, Drew Cheripko and Tye Smith.
Defensive ends Syd Holt and Eddie Releford had some experience last season, combining for 26 total tackles. They will be looked at to replace the production made by Delaire and Cheripko in their four years at Towson.
In the secondary, junior Donnell Lewis and sophomore Jahmahl Pardner could end up as starters at cornerback. Alfonso Augustine, who recorded 41 tackles in 2014, will also factor into the secondary.
One of the positions to watch will be linebacker, where leading-tackler and freshman James Simms will join a rising start in sophomore Jordan Mynatt. Also returning will be sophomore Bryton Barr, who has missed much of the last two seasons with injury.
"We're still building towards the level of success that a North Dakota State or an Eastern Washington would have, but all those took well over 10 years to build," Ambrose said after the season finale. "We're right in the thick of it."