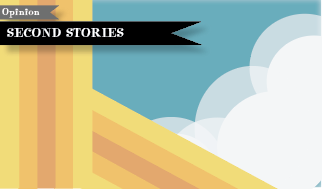 A thank you from your friend
By: Jordan Cope, Senior Editor 
Here at The Towerlight, our editorial board members often use the phrase, "Towerlife."
We use this phrase because we immerse and dedicate ourselves wholeheartedly to this job. The number of times we have all skipped class to cover an important event can't even be counted on both hands.
I know I have mentioned this before, but every Monday we are in an incredibly small office putting pages together for our weekly issue from 9 a.m. to 7 p.m.
That being said, we have one of two options: be miserable for 10 hours every Monday, or become friends with our colleagues.
In my four years at The Towerlight, we have always chosen the latter option, to be friends.
While I have enjoyed each and every year here at The Towerlight, my junior year was above and beyond my favorite. Our editorial board really was a family. Between our then Editor-in-Chief Cody Boteler, Senior Editor Sam Shelton, News Editor Sarah Rowan and myself as sports editor, we became known as the "Core 4." We truly were, and remain best friends.
As you all know now, Sarah is stepping down from her position as editor-in-chief, and although I'm so very sad to see her go, I couldn't be more proud of her.
Sarah came into the office her first year at Towson as a nervous freshman, like we all do, but she killed it as a staff writer and eventually took over as news editor where she did an even better job.
This past spring, we elected Sarah as our fearless leader, and in just five issues she has done an amazing job. She brought constant energy to our newsroom, along with great reporting and morally and ethically upstanding journalism.
Sarah did a wonderful job of leading our staff to success, and I have complete and utter faith that our newly elected editor-in-chief will continue to do the same, whoever it may be. I am excited for the future of our publication, and I know that it won't miss a beat.
Although Sarah will continue to write and assist in office work with The Towerlight, I wanted to leave her with this; we are all so very proud of you, both inside and outside of the office. We were a better publication for having you as our leader, and better people for having you as a friend.
With love,
~ Jordan