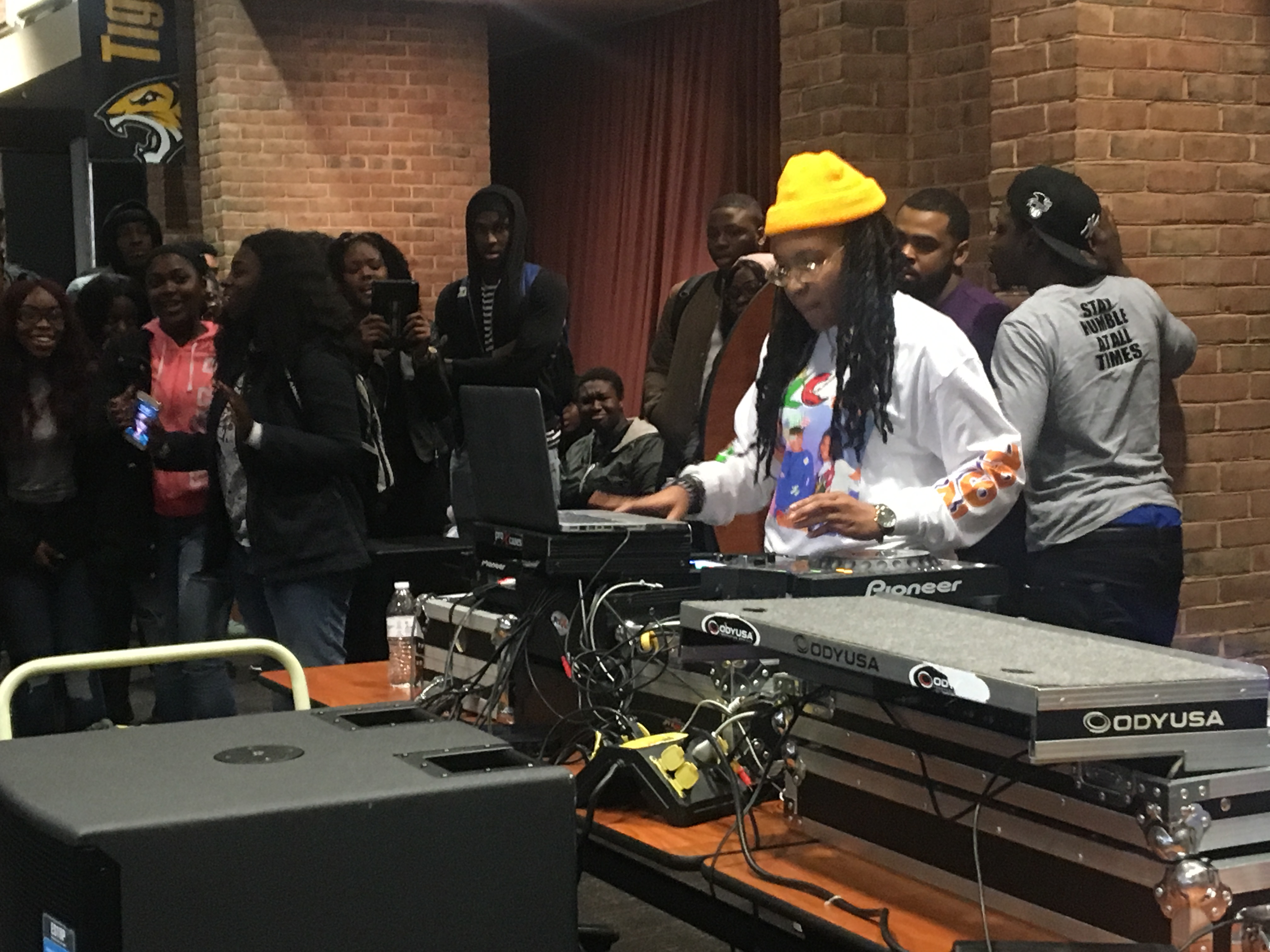 CAB reveals performers for Tigerfest 2018
By Cynthia Pereira, Contributing Writer
Cynthia Pereira/ The Towerlight
Towson University's Campus Activities Board revealed that rappers Young Thug and Dave East will perform at this year's Tigerfest.
Dave East, a Towson alumnus, will serve as the opener for Young Thug, who will headline Tigerfest.
CAB announced the artists during a reveal party on March 28 in the Susquehanna Terrace room of the Union.
CAB Director Alasia McDonald was surprised at the level of excitement and turnout Towson students brought to the party.
"I definitely wasn't expecting this many people," McDonald said. "It's insane. This is the first time we did a Tigerfest reveal party and it came through the way we wanted it to."
The event started with a "Guess Who" game in which a board was projected on a screen with multiple performers, leaving students to guess who they thought the performer would be. The board consisted of many different artists such as Cardi B, Dua Lipa, Walk the Moon and many others. As time went on, the board gradually changed, showing the top four possible artists: GoldLink, Lil Uzi Vert, Dave East and Young Thug.
Before the CAB committee officially announced who the performer would be, they increased the anticipation with a DJ battle among four different local MCs. Students were able to get down to some throwback songs, and four judges decided the winner of the DJ battle.
CAB offered a Beats Pill speaker as a prize to anyone who could name the right performer by the end of the party.
When the time finally came to announce the true two Tigerfest performers, the screen changed once more, revealing the performers as none other than Young Thug, a rapper and hip hop artist from Atlanta, and his opener, Dave East.
Although excitement buzzed throughout the room, some Towson students shared their disappointment.
"I'm a little upset," said junior nursing major Sabrina Sioson. "I thought it was going to be Lil' Uzi."
Other students, however, were happy with the results.
"I was not expecting that," said senior political science major Rachel Johnson. "I was stuck between GoldLink or Dave East, but Young Thug is good too. "
McDonald explained that CAB chose the artists based on a collective vote of interests among groups on Towson's campus.
"This year, we decided to plan Tigerfest a little bit differently," McDonald said. "We had a Tigerfest planning committee similar to how other events on campus have committees, like homecoming. And it was made of different organizations on campus, mostly with CAB and SGA members. It was kind of a joint effort between those organizations to choose an artist."
McDonald shared CAB's excitement for the performance, especially due to the unique situation of having Young Thug on college soil
"I like who we picked," said McDonald. "According to our advisor, he's not someone who has been in the college circuit, so it's different from last year where we had the same person UMD had. I'm really proud of everyone on the Tigerfest team for putting this together and helping out."