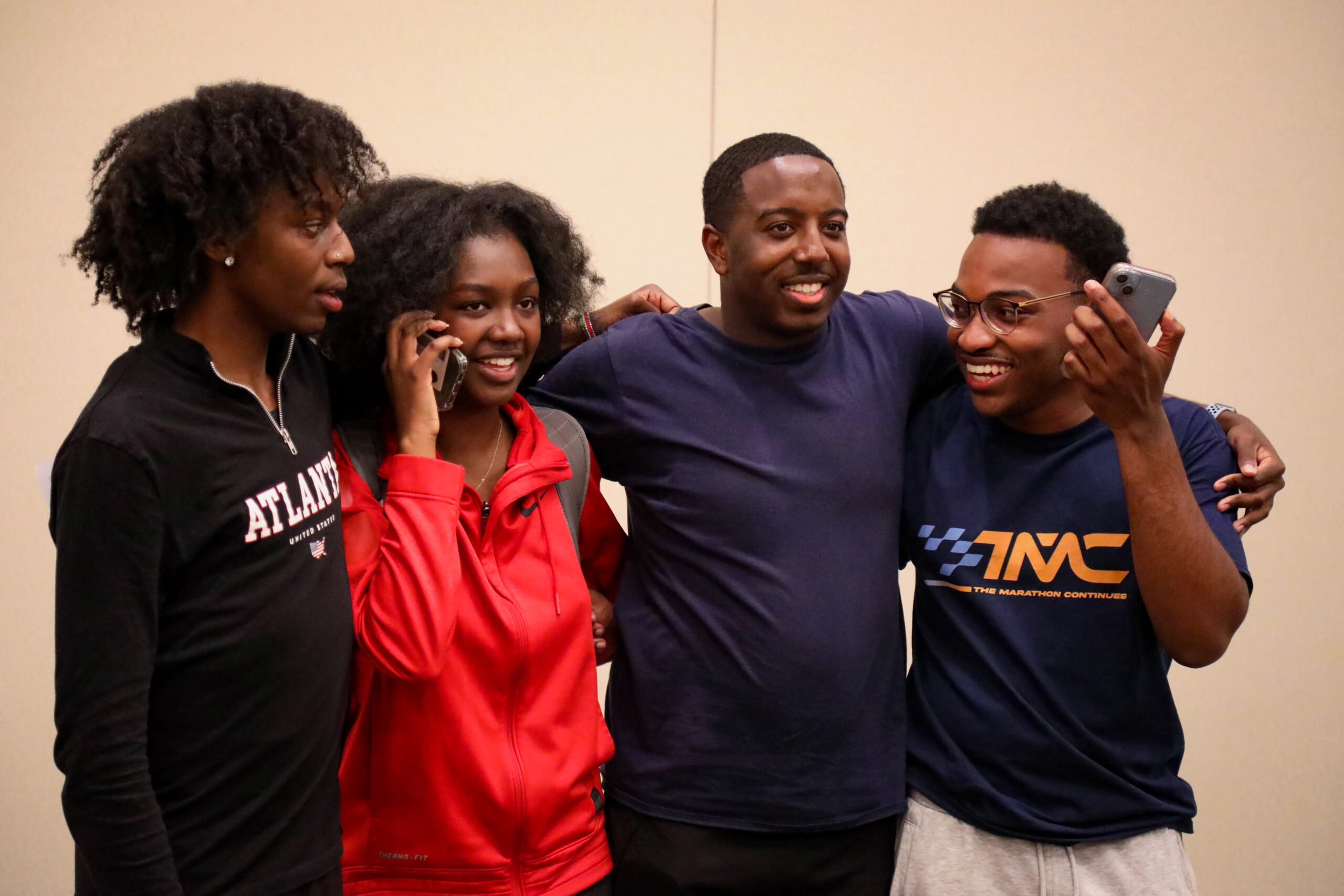 The Marathon Continues sweeps SGA elections; Colquitt re-elected as president
By: Caitlyn Freeman, Editor in Chief and Jonah Lewis, Senior Staff Writer
Junior Jordan Colquitt was re-elected as president of the Towson University Student Government Association and will lead the 103rd administration, the election committee announced Thursday evening.
Colquitt, elected last April to lead the 102nd administration, ran this cycle as part of The Marathon Continues ticket, which saw all of its candidates win their respective races.
Colquitt, who was elected last April to lead the 102nd administration, ran this cycle as part of The Marathon Continues ticket, which saw all of its four candidates win their respective races. Sophomore Shawn Bell was elected as vice president alongside Freshman Jenna Jalloh, who was elected attorney general. David Onwonga, who was elected treasurer.
"I feel grateful for the opportunity to continue serving Towson University," Colquitt said in an interview.
The two-day voting period began on Wednesday, April 19 and ended Thursday at 4:00 p.m.
During the announcement ceremony held in the University Union on Thursday, Chane Rainer, a member of the election committee, said this year's race was among the most contested in the last decade as every Executive Board race had multiple candidates.
This election cycle saw three Executive Board tickets in addition to Colquitt's, including:
While the candidates vying for executive positions typically campaign as tickets, they run independent races for the positions. Meaning a presidential candidate from one ticket and a vice presidential candidate from another can both win their respective elections.
In addition to the high number of candidates, 3,264 undergraduate students voted in this year's election, 480 more than in 2022, Rainer said. Colquitt won his race with 1,497 votes.
The Voices of the Heroes ticket came in second place, with its presidential candidate, Damon Edwards II receiving 1,184 votes. Edwards II serves as vice president in the 102nd administration.
Clifton Crosby Jr. ran as the vice president candidate for The Voices ticket and came in second with 1,222 votes.
"The students voted for who they voted for, and I respect the results of the election," Edwards said in an interview. "I thank everyone who voted for the Voice of the Heroes, and I'm going to continue to push our policies and agenda."
Jayden Johnstone, who led the ActTU campaign, came in third place with 215 votes. His ticket was composed of himself and Freshman Aatikah Bajwa.
"I'm feeling happy, I mean, we may not have won, but we're two people, and we still managed to get 300 votes or something," Johnstone, SGA's Director of Civic Engagement and Sustainability, said "I think that says something about our policies and ideas."
The TakeoffTU campaign consisted of current Senate Pro-Tempore Chidi Nwachinemere and Attorney General Christopher Omisore. Nwachinemere came in last place with 143 votes.
According to Chris Rindosh, student organizations coordinator, the TakeoffTU campaign violated an election campaign policy which resulted in the commission detracting votes from both candidates.
Rindosh said they found out about the violation 40 minutes before the scheduled announcement and they did not have time for an appeals process. Prior to the vote deduction, Nwachinemere had 343 votes, while Omisore had 329.
Rindosh said the commission would not be disclosing the violation.
Earlier this week, members of the SGA senate filed two articles of impeachment against Omisore in his role as attorney general for abuse of power and neglect of duty.
Omisore and Nwachinemere did not respond to requests for comment by publication Thursday.
In addition to the executive leadership races, Nnanna Robert Uma, Semekate Getachew, and Andy Liu, who ran for senatorial positions, were all elected as they ran unopposed.
"I'm grateful for the opportunity to run for senate, plus I'm very excited that I won," Uma said in an email late Thursday. "I look forward to having fun and making a difference on campus as [an] SGA senator."
Echoing Uma, Liu said he was excited to work in the upcoming administration.
"I am looking forward working as a senator for the 103rd administration along side my fellow senators and president-elect Colquitt with rest of his ticket," he said in an email late Thursday."
Getachew declined request for comment.
The sole, uncontested candidate for Chief Justice, Fiyinfoluwa Sanya, won their race with 1,900 votes. Sanya did not respond to request for comment.
The Legislative branch of SGA consists of 25 student senators, 18 of which are elected, the organization's constitution states. Due to only three senators running in this race, a second election will fill the gaps.
The second election will occur on May 4, 2023.
This election cycle also saw students vote for three SGA constitutional amendments. Three amendments to the SGA constitution were proposed, including introducing a Military and Veterans Affair Representative, creating a Budget Allocation Committee, and establishing budget lines for Fraternity and Sorority Life Councils.
Large margins confirmed all three amendments.