Delaire and Smith compete at Pro Day
By: Matt Hamilton, Sports Editor
About a year ago, all the talk surrounded running back Terrance West, who brought unprecedented attention to the Towson football program. His Pro Day received unexpected attention from scouts and media members.
Towson fans know how West's story turned out, but the story began for a group of former Towson standouts, trying to pick up where the he left off. Five NFL hopefuls, led by defensive end Ryan Delaire and cornerback Tye Smith, took their shot at impressing scouts
Wednesday at Johnny Unitas Stadium.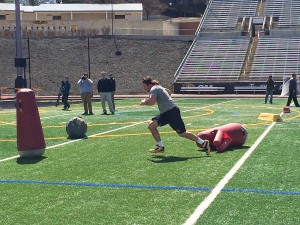 "We're excited about the fact that we grew and we get bigger and we get better," Head Coach Rob Ambrose said. "I think we're recruiting the right type of kids and they are making the most of their opportunities for the most part. And it speaks well to the institution and … how we're not afraid of being good."
Another year and another name from Towson popping up in NFL Draft discussion. Ambrose and his program have caught the attention of many around the league.
"I think Rob has done a phenomenal job," Baltimore Ravens Head Coach John Harbaugh, who attended Pro Day, said. "To me, it's a beautiful setting down here. They have a great looking team right now. Seeing the young guys, they look really good and they're excited about the year coming up. Towson is on the rise."
A total of 25 NFL scouts from 22 teams came out to watch Delaire and Smith take turns at running the 40-yard dash, the main event, as well as a handful of other running and position-specific drills. Both players were trying to improve on poor 40-yard dash times at the NFL Combine in February in Indianapolis.
For Delaire, it was a groin injury that hurt his 40-yard dash time of 4.97. The 6-foot, 4-inch defensive end had the size to compete in the NFL, but he needed to show off his speed at Pro Day. Although there were no official times, scouts clocked him between 4.65-4.70, a big improvement.
"[I wanted to show scouts] that my speed is more than 4.97," Delaire said. "When we started the 40-yard dash, I felt loose. I felt really quick and fast, so as far as taking that to the other drills, I felt good."
It's been a whirlwind six years for Delaire, who played basketball in high school until he decided to play solely football in his junior year of high school. Within a year, he was at UMass, playing for a program transitioning to Football Bowl Subdivision status.
Delaire spent two seasons with the Minutemen, but decided to transfer to Towson. He said the personal accolades became more important than the team standing.
"When I was at UMass, I was on a team where everyone played for themselves because I wasn't a part of a winning team," he said. "So everyone just played for their … stats and coming to Towson, none of that mattered."
During his two seasons at Towson, Delaire tallied 132 tackles, 22.5 sacks, four interceptions and five forced fumbles. His strength and power began to catch the attention of NFL scouts and led to his invite to the NFL Combine.
After the disappointing 40-yard dash time, it was back to work for Delaire. He was determined to improve, something Head Coach Rob Ambrose said has been a constant for Delaire over the past four years.
"Ninety percent of those guys walk in the door like 'I'm the man' and he's walking in the door like 'Just make me better, whatever it is to make me better," Ambrose said. "Any coach loves that."
Delaire said Pro Day came with a lot less pressure than the combine, where more eyes were on him. He ran drills with West and his teammates supporting. He also got the chance to speak with Harbaugh after his workout.
.@Pretty_Flacko56 continuing his workout. pic.twitter.com/RWrcAxS9lO

— Towerlight Sports (@TowerlightSprts) April 1, 2015
"He looked athletic and fast and he looked ready to go," Harbaugh said. "He's a pass rusher. We always need a pass rusher. He's a hard working guy. He'd be a great fit for us."
Smith, who also spoke with Harbaugh after Pro Day, has gone in a few different directions than Delaire.
He's a four-year player at Towson, starting in the secondary since late in his freshman year. His size, 6 feet, garnered attention as his career came to an end.  After recording 84 tackles last season, Smith was invited to the East-West Shrine Game in Tampa, Florida, on Jan. 17, where he competed against many of this year's top prospects.
From there, he waited just a few days longer than Delaire to hear he'd been invited to the Combine. However, Smith's 40-yard dash time, 4.6 seconds, was disappointing to him and regarded as slow for a cornerback. However, Smith seemed to improve on the time at Pro Day, with many scouts clocking him under 4.6, according to the Baltimore Sun.
"I feel like I did way better than I did at the combine," Smith said. "Mostly in my 40 because I know I'm better than that 4.6 at the combine. … I was just being myself. I felt like at the combine, specifically the 40, I was uptight. I wasn't just loose as I am and smiling as I usually do."
Smith then ran various defensive back drills, which tested his ability to turn quickly and catch passes. He said he'll continued drills like these until the draft.
.@TyeSmithCB taking his turn at a few cone drills. pic.twitter.com/qdrXKdq6AM — Towerlight Sports (@TowerlightSprts) April 1, 2015
"He moves long," Harbaugh said of Smith. "He's got good hands, lengthy guy. He runs well, good change of direction, good hips. All things you look for in a corner."
Both players have caught the attention of Harbaugh and, according to Ambrose, many teams around the league are high on them. They'll continue training for the NFL Draft on April 30, where Towson could hear its name uttered at the podium for the second consecutive year.