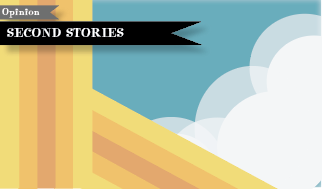 Embrace change: Enjoy the gift of life
By: Jordan Cope, Senior Editor 
What's up, Towson? Long time no see. I hope you missed me as much as I missed you. 
Although our amazing senior editor Sam Shelton graduated last spring, I will be continuing her original column idea. I hope that I make you proud, Sam!  
As you may or may not know, The Towerlight office overlooks the patio on the second floor of the Union. Hence the column name, Second Stories. I wanted to give the new readers a brief history of the column, because I thought it was a pretty awesome premise.
Speaking of new readers and going with the Survival Guide theme, I'd like to gear this week's column towards freshmen and new students, although the topic applies to all of us here at Towson.
With the start of a new school year and the beginning of many new experiences for students, what's a better jumping off point for Second Stories than talking about change?
Looking outside the window of our workplace, I can't help but think about change. I mean, it's happening right in front of our very eyes on this beautiful campus.
Across from the Union is Burdick Hall which is currently being renovated and will be completed by Dec. 2017. There is a pedestrian bridge that crosses over Osler Drive that was constructed prior to the fall of 2014, and there are turf fields that were installed in the spring of 2015.  
These changes we usually don't dwell on or give a lot of thought to because we are able to easily Cope with (no pun intended) them. It is the curveball changes, or the bigger changes, however, that we sometimes struggle to handle.
Let's be honest, no matter who you are, college is a HUGE adjustment at first. Throughout most of our adult lives, we were told what we could and couldn't do by our parents and teachers.
Then all of the sudden, like a flash of lightning out of the sky, we are given complete and utter freedom which can be very overwhelming.
Going to class is a choice, not an option. Nap time can be whenever we want for as long as we want. Dinner can be ice cream and a donut or meat and potatoes. You get the gist.
Not having anyone there to make these decisions for you can be a very scary and unnerving feeling, but this is one of the greatest changes and challenges that life throws at us. It is the time that we get to find ourselves and discover who we are going to be as we mature and grow older in life.
Change was always something I always dreaded because, well, consistency is nice. But life is always throwing us unexpected curveballs, and it is up to us to either step up to the plate and knock it out of the park.
So, to my freshmen and new students, embrace this change head on. Use these next four years to discover yourself and live the life that you want to live. After all, we only get to go around one time.
I myself can't wait to see and meet new faces on campus. Welcome to Towson, y'all and make these next four years the greatest of your entire lives.