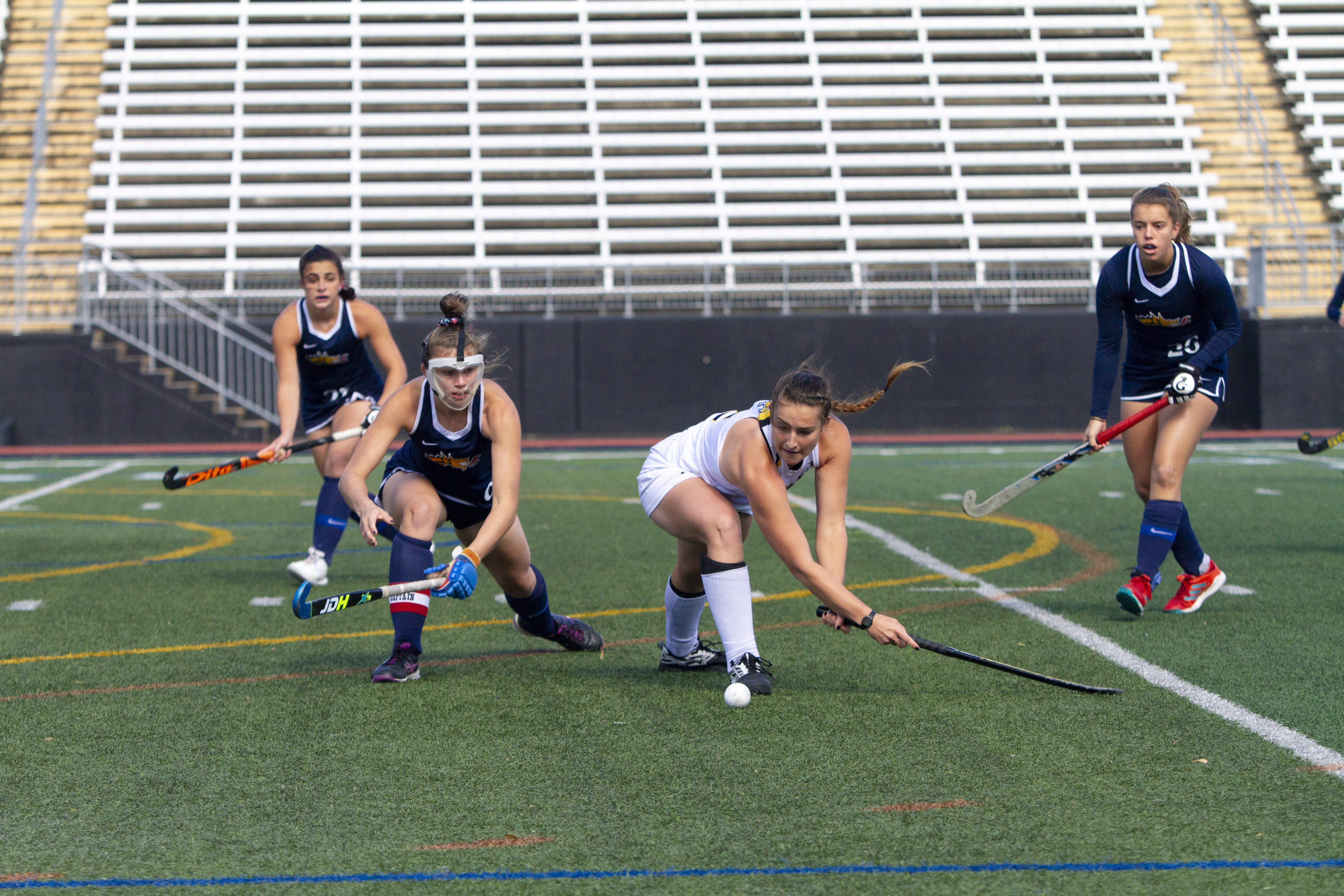 Heartbreaking weekend for Towson field hockey
By: Glenn Kaplan, Staff Writer
Photo by Brendan Felch / The Towerlight
It's not about how you start, but it's about how you finish.
The Tigers held an early 2-0 lead in their matchup against Drexel Sunday afternoon at Johnny Unitas Stadium, but senior defender Amy Ferguson scored the game-winning goal with 4:33 remaining in regulation for the Dragons (8-8, 1-3 CAA), resulting in a 3-2 loss.
"I think we came out in the second half and I think we showed our youth a little bit," said Head Coach E.A. Jackson. "I think we sat back on our heels a little bit and just expected to maintain that lead. Drexel came out like they had a job to do and they evened up the score and then they wound up finishing and walking away with the win. I think it's a nice life lesson for us that going into the second half with momentum on your side and with a lead, doesn't mean that your job is over yet."
Senior midfielder Katie McNeel scored a first half goal on a penalty corner for the Tigers (1-15, 0-5 CAA) 3:31 into the game and sophomore midfielder Abby Webster added a goal 2:56 later in the period.
"Those two have a really nice chemistry together and they trust each other," Jackson said. "They've been playing together now for almost two full seasons and they just sort of [instinctively] know where each other is going to be. I think you only get that once you've been able to train and play together for a year, two, or three. It's fun to see their chemistry and they've got two more games to make that magic happen."
Junior midfielder Tess Horan scored a goal for the Dragons 14:35 into the first half to make it a 2-1 game going into halftime.
Even though freshman attacker Olivia Blasone didn't score a goal or record an assist, she provided a spark for her team coming out of the break with good ball movement.
"She showed up and she played like a fourth-year senior," Jackson said. "She did not play like a freshman today. She was really focused on generating attack and I think she did a really nice job with that especially in the second half. She's a little spark of energy that we needed."
Despite pushing the tempo offensively, Towson experienced defensive struggles as junior forward Tess Bernheimer evened the score with a goal for Drexel 11:32 into the second half.
Following a defensive battle for most of the period, Ferguson went on to notch the game winning goal for the Dragons.
Towson gave everything Colonial Athletic Association (CAA) opponent Delaware could handle Friday afternoon at Johnny Unitas Stadium, but freshman forward Pia Freudenberger scored the game-winning goal for the Blue Hens (9-6, 4-0 CAA) with 1:48 remaining to give them a 2-1 win.
"We went into this game and we knew it was a David vs Goliath situation," she said. "The cool thing about being the underdog is that there aren't a lot of expectations. We were really excited to step up and accept the challenge."
Webster scored a penalty corner goal for the Tigers 15:01 in the game following three consecutive, unfruitful penalty corners. Towson finished with just four penalty corners on the day.
"Sometimes that's all you're going to have in a game," Jackson said. "We work hard in practices to make sure when we do have those opportunities, that we are able to capitalize on them."
Senior forward Michaela Scanlon scored a goal for the Blue Hens with 4:19 remaining in the second half.
Freshman goalkeeper MacKenzie Peacock made a huge save early in the second half on a penalty stroke. She had an impressive day, finishing with four saves.
"MacKenzie played like a fourth-year senior today," Jackson said. "For the entire 70 minutes, there was no waxing or waning. There was no stepping back. She stepped in that goal like a senior and it was really nice to see her play with confidence and poise for the entire 70 minutes."
Despite Peacock's strong performance, Delaware pounded Towson's defense with 11 shot attempts en route to victory.
Up next for the Towson Tigers is a CAA contest on the road against James Madison on Friday starting at 6 p.m. They will then face non-conference opponent Lehigh Sunday afternoon at Johnny Unitas Stadium on senior day. That contest begins at 1 p.m. on the new field hockey field, and there will be a ribbon cutting ceremony for the new field starting at 11:30 a.m.