Swimming and diving: tigers make a splash at meet
By: Chris Well, Contributing Writer
Towson University men's and women's swimming and diving played host for the first time this season and competed in the Tiger's annual "Alumni Meet" Saturday afternoon at Burdick Pool.
Highlighting the annual event was the large number of returning alumni from past Tiger teams. A week after only a portion of the team took third in the All Florida Invitational, the competitors that didn't go got a chance to swim in the Alumni Meet.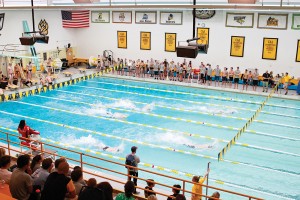 "The kids that went to Florida practiced today and were on the sidelines," Head Coach Pat Mead said. "The kids that swam today were the people that didn't go."
The pool deck was loaded with swimmers and divers of past and present classes interacting and competing in a light hearted, spirited competition.
One member of the team Mead acknowledged that has improved rapidly and had a great performance is Jake Casey.
"Jake Casey is our only male diver and if you had seen him on the boards three weeks ago you would have thought it was summer league diving," Mead said. "Watching him today it's like a completely transformed athlete, that's going to help us tremendously in dual meets."
After the meet competitors in particular Mead gave tremendous credit to his divers.
"The divers are doing an outstanding job," Mead said. "I think some of the greatest progressions we're seeing in terms of improvement is really coming from the divers."
The meet was part of the annual event packed weekend as the team played in a golf tournament Friday, had a cookout and participated in an auction for the team Saturday night.
"This is one of the best parts of the season," Mead said. "Having the alumni come back it really is a full weekend."
The meet was energetic from the start thanks to the excitement and involvement of proud spirited parents in the stands.
With two events completed everyone has competed at least once, giving Mead a chance to evaluate the entire team.
Towson hits the road for their next meet, the Potomac Relays at American University, Friday Oct. 2.
"Now we have everyone having swum one meet in the last week," Mead said. "We have a better assessment as to where we're going to go from here as far as the Potomac Relays and our meet at William & Mary."