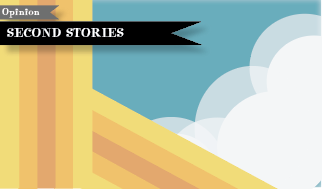 The best of Uptown's Halloween costumes
By: Jordan Cope, Senior Editor 
Wow, Halloween weekend was… AWESOME. Since we go to press on Halloween — and since Halloween weekend is now behind us — I thought it would be fitting to do a top-five list of the best costumes I saw at the bars uptown this weekend. So — without further ado — I present to you the big winners:
1. Sports Costumes: Okay, hear me out on this. I grew up at the sports desk, so obviously I'm going to rank these types of costumes number one. Jerseys are such a great conversation starter, and you can have a lot of fun with them. I even indulged and went as an average and concussed Joe Flacco. Anyway — seeing all you damn New Yorkers in your Yankees and Rangers jerseys was painful for my eyes — but fun to talk to you about. Well done, everyone.
2. Rosie the Riveter: I'll be honest, I have never seen this costume before on Halloween. The idea was great, and the costume is inexpensive. I have never understood why people buy these expensive costumes to wear one day in their life, but that is beside my point. The timing of wearing this costume was perfect given our current political state. For the creativity and the message, Rosie the Riveter takes second-place in our top-five.
3. The Brawny Man: Creative, my friend. I give you kudos for carrying around a 16-pack of paper towels through the streets all night, too. That is something I definitely couldn't have dealt with. Great costume and great use of props gives you the No. 3 spot.
4. Superhero Costumes: Even though these costumes are super expensive, they are so cool. As Abram Fox, honors college coordinator, told me in an interview for a cover story that we ran this year, "Going to see superhero movies doesn't mean you are a nerd anymore, it means you went to see some of the highest-grossing movies." I couldn't have put it any better myself. Just because you dressed up like a superhero, doesn't make you a nerd, it makes you badass. Running in at our No. 4 spot, superhero costumes.
5. Prison Costumes: The only reason these costumes are in our top-five is because I don't really remember anything else that I saw that stuck out to me, or struck me as particularly interesting. Most of these costumes were bright orange, which helps jog my memory, and fits into the Halloween color pallet. Going up with the No. 5 spot on our list is prison costumes, but only as default. Don't get too excited if you wore these, because I don't think highly of you.
Have a fun and safe Halloween, everyone! If you are a freshman, sophomore or junior, live it up because it goes waaaaayyyy to fast.