By: Sam Shelton, News Editor
A crowd of students and former colleagues gathered Friday, Sept. 18 to honor Towson University's late President Emerita Maravene Loeschke with a memorial service she planned prior to her death.
Loeschke was 68 years old when she died of complications from cancer on June 25.
"Maravene was a woman of vision, but she was also a great planner," Interim President Timothy Chandler said in his welcoming remarks. "And she had the foresight to plan for us today, in detail, actually in great detail, her farewell to us."
Assistant to the President for Events and Engagement Teresa Hardin said that Loeschke and a group of people close to her began planning the ceremony "over a period of time" before she died.
That planning became a text several pages long that outlined everything Loeschke wanted from her memorial, down to the music, speakers and performances, Hardin said. The text was delivered to the memorial's organizers after Loeschke died.
"Maravene made it very easy for us because she knew very much what she wanted her memorial service to be like," Hardin said.
Hardin said that Loeschke didn't want the memorial to be sad, but instead wanted to remind people of "happy times" and the things  she was passionate about.
"Maravene embodied Towson," Chandler said in his opening remarks. "She may not be here today to witness her last production, but the love she poured into Towson, and our love for her, will surely live on."
* * *
In 1965, Loeschke enrolled at Towson University, then Towson State College, as an English and theatre major. After she graduated in 1969, her mentor, and later husband, C. Richard Gillespie asked her to take a teaching job in the theatre department he founded.
In 1971, Loeschke earned her Master of Education degree from Towson. She also earned a doctorate in philosophy from Union Institute & University.
Susan Rotkovitz is Director of the Arts Integration Institute at TU, a system Loeschke promoted. The two met in the early 1970s when Rotkovitz participated in a six-week summer high school theatre workshop run by Loeschke and Gillespie.
"She modeled everything that she taught," Rotkovitz said. "There are three outstanding lessons I can tell you right off the top of my head. One was hit the stage with authority, no matter what it's for, or what you think you know or don't know. Take a risk … And don't make excuses. Just go in and do what you have to do."
In addition to writing, directing and starring in various theatrical pursuits throughout the years, Loeschke rose from professor to theatre department chair and became dean of the College of Fine Arts and Communication in 1997.
In 2002, Loeschke left Towson to become provost at Wilkes University and later president of Mansfield University.
Loeschke returned to the area in January 2012 as Towson University's 13th president. She was inaugurated the following September in a weeklong celebration.
Events leading up to the inaugural ceremony included a pep rally, the dedication of the International Walkway, the ribbon cutting for the Center for Well-Being and a performance of A. R. Gurney's "Love Letters," in which Loeschke and Gillespie reprised the starring roles.
Loeschke was diagnosed with adrenal cancer in April 2014 and announced that August that she would be taking a leave of absence. In December 2014, she resigned the presidency.
In a Dec. 18 campus-wide statement explaining her choice, Loeschke commended the administrators who rose to new positions during her leave of absence, and expressed her sadness at her health preventing her from remaining president.
In June 2015, the Board of Regents of the University System of Maryland granted Loeschke the title of president emerita.
* * *
Following Chandler's welcome, the ceremony continued with video tributes, a short piano interlude and remarks from professor Marsha Becker and former Student Government Association President Brandy Hall.
Chancellor Emeritus of the University System of Maryland William "Brit" Kirwan, who was chancellor for the entirety of Loeschke's two-year presidency, also spoke. He first met Loeschke when she was a candidate for the presidency.
"No description of Maravene could fully capture the special aura of her dynamic presence, her radiant smile, her sonorous voice," he said. "All of which impressed me the moment we met, just as it did so many others."
Becker, who graduated from TU in 1999, encouraged audience participation. She had colleagues, students, friends and other guests stand in turn. She asked attendees to stand even if they had never met the president emerita.
Then, once everyone was standing, she led the audience in a round of applause. She led them in what she said was "one last standing ovation for Mar."
"We are all part of her extended family," Becker said. "And she never missed an opportunity to let us know."
* * *
Loeschke is most publicly remembered for what Hall called her "zest of life," and the relationships she formed with her students.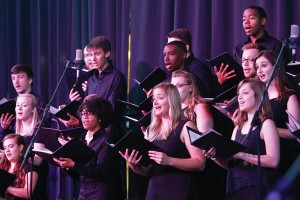 Freshman Rosie Casciero and senior Meghan McGinty performed during the memorial service as members of Towson University Chorale.
McGinty said that the songs prepared for the memorial, Bruce Springsteen's "The Rising" and Stephen Paulus' "The Road Home," were also performed at Loeschke's inauguration in 2012.
A vocal performance major, McGinty sang in the "Suor Angelica" opera last spring.
"[Loeschke] actually came to it, even though she was really sick and it was hard for her to get around," McGinty said. "She was there in the front row and afterwards she gave me a huge hug. It was really cool."
Rosie Casciero, daughter of theatre professor and former student of Loeschke's, Tom Casciero, knew her as a family friend before all else.
"I wish that she had still been president when I came here," Casciero said. "I never knew her as Mrs. Loeschke, or whatever. She was always just Maravene and Auntie Mar."
As Deputy Chief of Staff, Marina Cooper worked closely with Loeschke during her time as president.
"I can remember after a good meeting with students or a campus event, she would say 'Aren't we the luckiest people on the planet to do what we do?!,' Cooper said in an email. "She needed no reward for doing her job, because the job itself was all the reward she needed."
In addition to the enthusiasm and warmth described by Cooper, theatre professor Peggy Penniman, who has been an adjunct at Towson for 40 years, said that the president emerita possessed a pragmatic, driven side.
"She was great about praising and supporting other people's work and achievements, but on the practical side, she always made sure it was written. So, it was something that could go in somebody's portfolio," Penniman said.
During her time as president, Loeschke founded the TU Professional Leadership Program for Women, named the university's first presidential scholar and influenced the installation of campus' International Walkway.
Professor Richard Vatz, who first met Loeschke in 1974, said in an email that he remembers her as a woman who "respected public opinion but was never controlled by it."
"And yet she was the most charismatically impressive president Towson has had, along many such impressive leaders," he said. "She brought the spirit of students and faculty and administration and staff to their pinnacle."
Loeschke's presidency was also, at times, the subject of controversy.
In 2013, Comptroller Peter Franchot called for her resignation after she announced in March that the university was planning to cut baseball and men's soccer. While baseball was later given a reprieve, men's soccer was not. The latter now exists on campus as a club sport.
Loeschke also defended her students' First Amendment rights during a situation involving a controversial student group on campus, according to Vatz.
"If there is one memory — and there are endless such remembrances," he said. "It would be her insistence of the recognition of the academic freedom for a racially prejudiced group on campus, a truly contemptible number of students who represented values anathema to her and me but who had the right of university protection of freedom of speech."
* * *
During a theatre department tribute to Loeschke and Gillespie, professor Jay Herzog compared the pair to famous couples.
Bonnie and Clyde, he said, were not quite right. Fred Astaire and Ginger Rogers came close, but Herzog said he could not imagine Gillespie "in tap shoes, gracefully manipulating the grand stairway on an MGM movie set."
He settled on painters Diego Rivera and Frida Kahlo, the former of which always predicted and hoped his wife's reputation would be greater than his own, according to Herzog.
"It is not to say that Maravene exceeded Dick's work," he said. "But I heard Dick say more than many times that Maravene was due for greatness, and he would do anything he can to serve her life's ambition."
Toward the end of the ceremony, Towson alum and Creativity and Associates Principal Bruce Nelson stepped into the pulpit. He read aloud from a letter Loeschke wrote for the ceremony.
In the letter, addressed "to my friends," Loeschke repeated one of the questions she often asked her students.
"How will the world be better, because you have been given a college education? How will you make your life one of service to others and the world condition? Students, what will be better because of you?"
"Please keep asking our students and each other these questions," she said in the letter. "Thank you for allowing me in your lives. I have learned so much about love from you. It is with love and gratitude that I say goodbye."