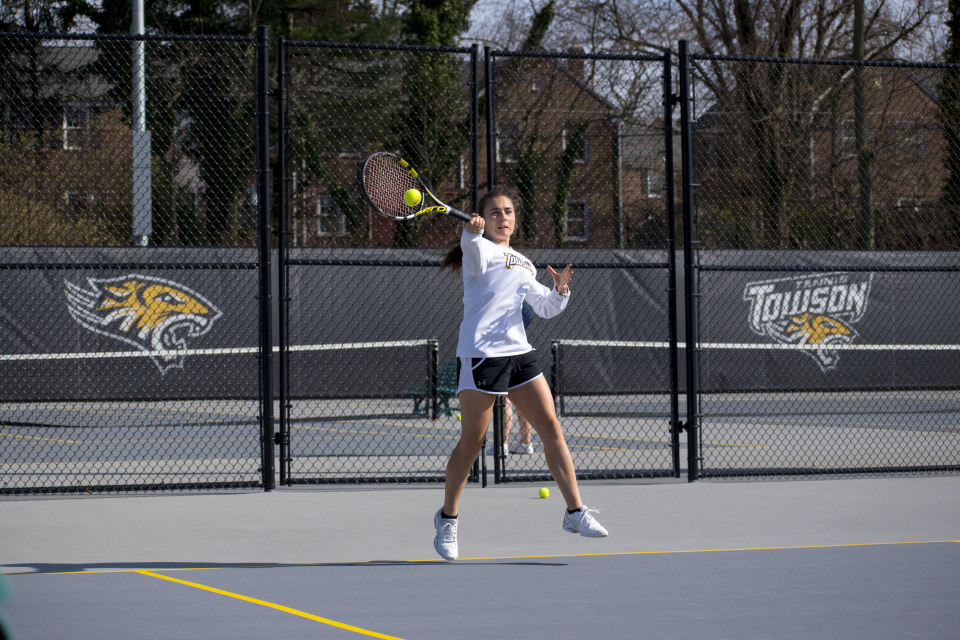 Tigers fall in CAA quarterfinals
By: Billy Owens, Assistant Sports Editor
File photo by Brendan Felch/ The Towerlight
Towson earned its first win at the Colonial Athletic Association (CAA) tournament in over a decade against Hofstra, before falling to William & Mary in the quarterfinal round at the Jimmy Powell Tennis Center in Elon, North Carolina.
Friday, eighth-seeded Towson couldn't capitalize on its early doubles momentum, losing to eventual Tournament Champion and top-seeded No. 41 William & Mary 4-0.
The Tigers were in prime position to take the only point off the Tribe throughout the entire tournament, as the No. 1 doubles team of Yevgeniya Shusterman and Lucy Williams blanked Lauren Goodman and Natalia Perry 6-0. The Tribe evened up the doubles at the No. 2 flight, as Rosie Cheng and Olivia Thaler defeated AJ Gomer and Renate van Oorschodt 6-4.
At No. 3 doubles, Barbora Vasilkova and Lucy Gloninger were up 5-4, 40-15 with three match points, but eventually fell to Charlotte Madson and Clara Tanielian 7-5 to give the Tribe the opening doubles point.
William & Mary continued to play consistently strong in the singles flights, clinching three straight-set wins to decide the match and advance to the semifinals. Thaler defeated No. 6 Gloninger 6-2, 6-0, Perry topped No. 2 Gomer 6-0, 6-1, and Cheng beat No. 1 Nicole Shakhnazarova 6-2, 6-1 to take the win. The other matches were left unfinished, which included No. 3 Williams leading 6-1, 2-3 over Tanielian.
Friday's match was the final match for the Tigers' five seniors: Shakhnazarova, Vasilkova, Gomer, and co-captains van Oorschodt and Williams.
The Tribe went on to win their 26th CAA conference championship and fourth in a row Sunday, defeating second-seeded James Madison 4-0.
"We had a good performance, and it could have been a great performance but I guess it wasn't meant to be," Head Coach Jamie Peterson said. "I think they gave their all in their last match, to have a 6-0 win at No. 1 doubles over a team that's just knocked off two top 20 teams."
Thursday, Towson opened the 2018 CAA tournament with a hard-fought 4-1 win over ninth-seeded Hofstra.
Towson took the early lead by securing the opening doubles point, but had to do it from a match down as Michal Kaplan and Alejandra Ruffini beat No. 3 Vasilkova and Gloninger 6-2. Gomer and van Oorschodt responded at No. 2 with a 6-2 victory over Ana Canahuate-Torres and Meheq Khokhar while No. 1 Shusterman and Williams rallied to earn a 7-5 win over Sarah Herndon and Jasmine King.
The Tigers translated that initial doubles confidence into the singles, winning three straight-set flights to claim victory over the Pride. No. 1 Shakhnazarova defeated King 6-1, 6-4, No. 6 Gloninger beat Ronia Dolabany 6-3, 6-4, and No. 4 Shusterman closed out Herndon 6-2, 7-5 to give the Tigers their first CAA tournament win in 11 years.
"It was a little bit tighter than the score indicated, like with William & Mary, but we were able to play clutch tennis when we needed to," Peterson said. "We were able to close things out when we had to, so we did exactly what we needed to do."
The Tigers may not have reached the 18-win goal that they set for themselves back in February, but Peterson remains impressed with the season as a whole — especially considering that this season's schedule was one of the toughest in program history.
"We have a lot to be proud of as a team, in particular the commitment the five seniors have made over their four years," Peterson said.
Four new Tigers will be joining the team for the fall season, which will consist of a few tournaments as well as an alumni event, Peterson said.
He also said the spring 2019 schedule will be similarly tough, as Towson is slated to play new opponents San Jose State, Maryland and Rutgers, as well as 2018 opponents Penn State, West Virginia and Buffalo.