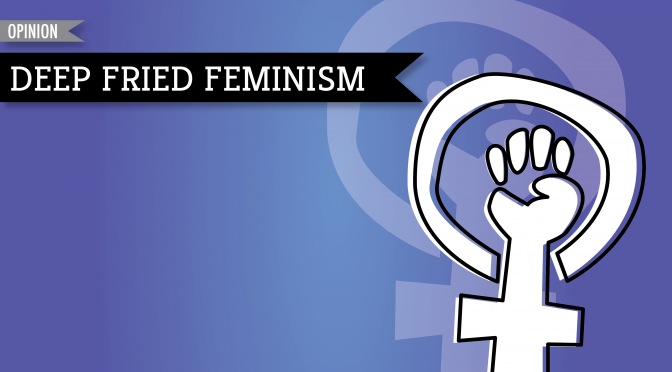 Top ten sexist quotes from Donald Trump
By: Megan Graves, Columnist
We all know him. The man, the myth, the toupee: Donald Trump. Over the course of several debates, he's made some pretty wild statements in regard to how he sees the U.S. and what his plans may be for it. However, over the course of, well, his whole life, he's made some pretty poignant statements on how he views women. While there are hundreds of ridiculous claims made by him per each debate, tweet, and interview he takes on, here's the top ten most sexist claims made by Donald Trump.
"[Women:] You have to treat 'em like sh*t." -New York Magazine, 1992
Oh. Well, that's pretty straightforward.
"I've said if Ivanka weren't my daughter, perhaps I'd be dating her."-The View, 2006.
Trump made this claim when he was discussing his daughter's beauty, and whether or not he thought she'd ever be a part of Playboy. He didn't think she'd do it, but he does think she'd date him if he weren't her dad! She probably wouldn't, and also, ew.
"All of the women on The Apprentice flirted with me — consciously or unconsciously. That's to be expected." -The Daily News, 2004
I mean, how could they resist that pale/pink face, those deep wrinkles? *shivers*
"26,000 unreported sexual assaults in the military-only 238 convictions. What did these geniuses expect when they put men & women together?" Twitter, 2013
Well, I mean, I don't know for sure, but one could argue that maybe they expected that, you know, no one would rape anybody.
"Look at that face. Would anybody vote for that? Can you imagine that, the face of our next president?! I mean, she's a woman, and I'm not s'posedta say bad things, but really, folks, come on. Are we serious?"
Trump's analysis of Carly Fiorina, stating that she was too ugly to be president. It's as if the irony of that statement went swiftly over his bright yellow toupee.
"I mean, we could say politically correct that look doesn't matter, but the look obviously matters," Trump said to a female reporter in a clip featured on "Last Week Tonight." "Like you wouldn't have your job if you weren't beautiful."
Who needs skills or qualifications, amiright? (No, not right.)
"It's certainly not groundbreaking news that the early victories by the women on 'The Apprentice' were, to a very large extent, dependent on their sex appeal." -How to Get Rich, 2004"
And again, we see no need for skills or qualifications, just be sexual in a way that appeals to old, white men. Success!
"You know, it doesn't really matter what [the media] write as long as you've got a young and beautiful piece of a**."
Who cares if people don't like you. It doesn't matter so long as you're objectifying your wife!
"I think the big problem that this country has is being politically correct. I've been challenged by so many people, and I don't frankly have time for total political correctness, and to be honest with you, this country doesn't have time either."- GOP Debate, 2015
When Megyn Kelly asked Trump about his sexist statements toward women, this is how he responded. I don't have time to respect women, Megyn! And neither does this country!
"You could see there was blood coming out of her eyes. Blood coming out of her wherever." -CNN, 2015
Trump's attack on Megyn Kelly after the debate in which she called him out. She was clearly hysterical because of her hormones. Why else would anyone call out a presidential candidate for being grossly sexist?