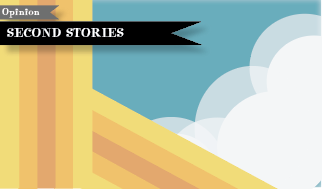 Tribe to ditch Chief Wahoo logo
By: Jordan Cope, Senior Editor 
What do the Chicago Blackhawks and Washington Redskins have in common? If you said they are the only two professional sports teams who haven't moved to remove their insensitive logo stereotyping Native Americans, then you're correct.    
The Cleveland Indians once fit that criteria, but decided as of last week to ditch their Chief Wahoo logo. The decision, which will go into effect in the 2019 season, will remove the red-faced caricature from the team's jerseys and hats.
The organization had been aware of the controversy surrounding the logo, and began making a slow transition from the Chief Wahoo on their hats to an enscripted "C" for Cleveland.
They also removed signs outside of the ballpark, and took down an old scoreboard that contained the image as part of the transition process.
However, the team, which always had the Chief Wahoo on its uniform sleeve, didn't always wear the hats with the letter "C."
What brought about the total elimination of the logo, however, was the uproar it caused in the 2016 World Series when the Indians were in the public spotlight.
MLB commissioner Rob Manfred had taken note of the public's displeasure, and began talking to team owner Paul Dolan about removing the logo completely. Although Dolan was reluctant, he agreed that burying the logo was best, and the rest, as they say, is history.
Wait, reluctant? Yes, that's right. Dolan said that the Chief Wahoo logo had a long-standing attachment to many Cleveland fan, and that he was taking both sides of the discussion with sensitivity.
I would look past how ignorant it was of Dolan to be reluctant to remove the logo if he had done one thing: remove it this season. By keeping the logo for one more year, the Indians will still be able to profit from merchandise sold with that specific logo on it. You name it, the Indians will be making money on it: T-shirts, jerseys, hats, souvenir bats and baseballs, just to name a few.
One last note: In the MLB, there are 81 home games, and Progressive Field can seat up to 35,225 people. Just imagine the amount of money that will be rolling into Dolan's pockets when fans buy merchandise with the Chief Wahoo logo on it.
Although I applaud the MLB and the Indians organization for doing what the NFL and Redskins owner Dan Snyder are too arrogant to do, Dolan will be laughing all the way to the bank one more time as he continues to keep an insensitive logo on his team's attire.