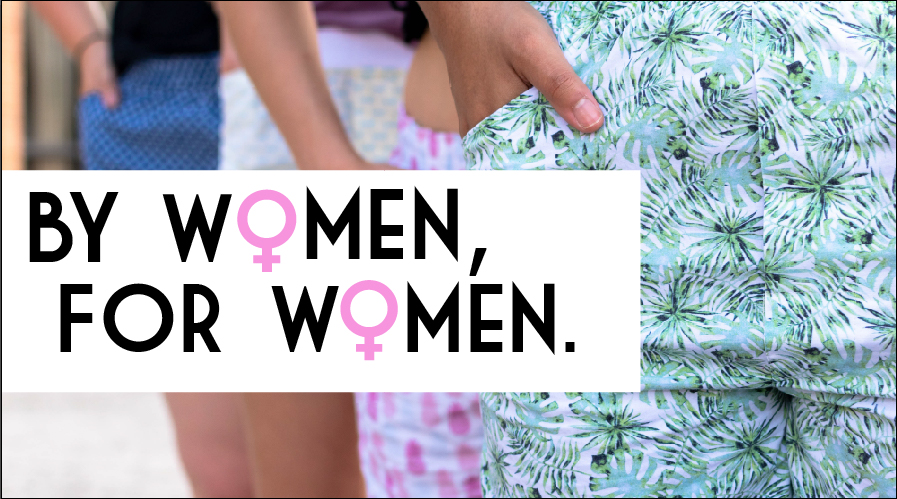 Changing clothes and social constructs
By: Kerry Ingram, Arts & Life Editor
Boxer briefs have always been looked at as an underwear form strictly for men, however, Towson alum Samantha Stelz has decided to change that.
My Lilianas, Stelz's new brand of loungewear shorts, are clothing items inspired by traditional men's boxers yet designed for the female form.
Made of 100 percent cotton, My Lilianas were made to give women a more comfortable option for loungewear without having to sacrifice style.
Stelz's source of inspiration for the shorts came from her own college experience with clothing.
"When I was in college, I found that after class, I just wanted to be comfortable as I was studying, working on my course work, or sleeping. I was constantly stealing my boyfriend's clothes," Stelz said. "I actually went shopping looking for loungewear and clothing items similar to his clothes in the women's department, but I could never find anything."
Stelz recalled shopping in Towson's mall during her time at the university, and stumbling across a female classmate in the men's department of a store. Both women were shopping for boxers for themselves to wear.
That coincidental run-in was enough for Stelz to determine that a change in the women's clothing industry had to be made.
"A lot of women's clothing companies are actually ran by men and they don't always know what we want," Stelz said. "We know what we want more. A lot of times women's clothing is made with the sole priority of being attractive, whereas most men's clothing is made with the top priorities of comfort and utility. I wanted to start changing things a little bit."
Kidron Turner, a 27-year-old engineer and friend of Stelz who has worn My Lilianas shorts since their creation, pointed out the true difficulty of finding comfortable and practical loungewear for women.
"For me, being able to have a dynamic wardrobe is really critical," Turner said. "Not just in a fashion sense; it is important that I am able to focus on being productive in whatever I'm wearing. I've got the professional attire aspect covered. Finding practical, sustainable let alone cute loungewear is much more challenging. Getting on board with My Liliana's was a no-brainer."
After trying My Lilianas boxers, Turner admitted to adding them as an "official part of her home and office wardrobe." She shared how the shorts allowed her to stop sacrificing comfort for style and that she would recommend them to others.
That balance of style and comfort is the exact thing Stelz aimed for in the creation of her brand.
"I felt like there was a serious lack of comfortable loungewear for women," Stelz said. "A lot of women's clothes, though it might look cute, are tight and not really comfortable or healthy."
Health is another aspect that sets My Lilianas apart from tradition women's underwear and loungewear items. Stelz spoke with gynecologists in the planning phase of the brand, settling on making the shorts out of 100 percent cotton, since that was recommended as a healthy material for women.
To Towson University Health Educator Kailah Carden, My Lilianas shorts sounded promising.
"Wearing boxers or sleeping without underwear can be recommended by medical providers to prevent urinary tract infections, yeast infections, and bacterial vaginosis," Carden said. "Underwear should be comfortable for those wearing it, so if [My Lilianas] provides a comfortable alternative that is not currently available, that is a great new resource. However everyone is different, so what is comfortable for one person may not be comfortable for another person."
My Lilianas are also designed with vertical stitching down the backside, to help make the shorts more comfortable and complementing without them riding up. According to Stelz, the shorts get softer after each wash, and she sought out getting each pair pre-shrunken so users won't have to worry about the shorts changing sizes upon washing.
Additionally, Stelz opted for a softer elastic band, as well as having the fabric tag stitched right on the shorts, for added comfort. She added deep pockets for convenience, noting that most women's clothing, let alone loungewear, lack such a feature.
The shorts currently come in an arrangement of designs, from printed designs like wiener dogs and pinstripes, to more standard designs, like solid blue coloring.
Although Stelz wanted to make My Lilianas meet the growing needs and concerns of female consumers, she also sought out to start her business as ethically as possible.
"Finding a manufacturer was definitely one of the hardest parts," Stelz said. "I wanted to find a manufacturer that could make the designs, but was also environmentally friendly with natural dyes and low impact dyes. I also wanted one that was an ethical company in and of itself. That took some time."
My Lilianas, Stelz admitted, is her most prized business venture thus far, but not her first.
"I did have a lot of really small businesses growing up, and I love getting to meet with people and seeing them get excited and talking about what I created," Stelz said. "My first legitimate business was making jewelry, I made my own glass jewelry using my parents kiln when I was 10. That got me so excited."
In addition to focusing on women's product needs and wants, My Lilianas is a brand Stelz uses to build women up in general. Stelz created MyLilianas.blog, in which she features different young women each week in the hopes of inspiring others to follow their own passions. She noted the importance on encouraging and supporting other women to live their dreams.
"Don't be afraid to do what you want and don't be afraid to take the time to figure out what it is that you want," Stelz advised. "Don't be afraid to take risks. Just put yourself out there and go for what you want without letting anyone or anything stop you.
My Lilianas are currently available in the U.S. and worldwide for $18 each, on the Shopify platform mylilianas.com.