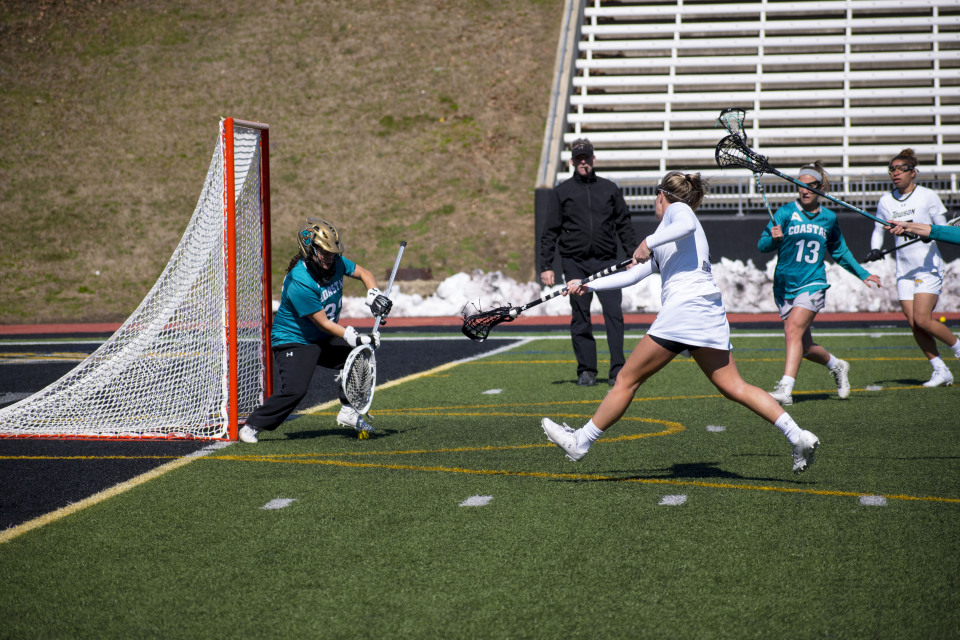 Leading by example: TU's captains chase out Chanticleers
By: Karuga Koinange, Sports Editor
Photo by Brendan Felch/ The Towerlight
Towson women's lacrosse picked up a convincing 15-3 victory over Coastal Carolina Saturday afternoon at Johnny Unitas Stadium. The team bounced back from a heartbreaking triple overtime loss against Loyola Wednesday afternoon to capture this win.
"We took care of business today," Head Coach Sonia LaMonica said. "There were obviously some things we want to continue to work on and develop, but overall we had some great play, great finishing and great defensive effort."
Senior midfielder Kaitlyn Montalbano got the Tigers (4-1) off to a good start, scoring two of their first three goals within the first five minutes of the game. The Tigers remained aggressive, putting in two quick goals in the next two minutes to take a 5-0 lead over the Chanticleers (1-4).
"We always talk about coming out of the gates strong," Montalbano said. "From end to end, we did a pretty good job in the beginning."
Junior attacker Carly Tellekamp scored off a good feed from fellow junior attacker Natalie Sulmonte. On the home team's next possession senior midfielder Emily Gillingham converted on a free position opportunity with a pump fake and strike into the bottom right corner of the cage.
The Chanticleers simply couldn't keep up with the furious pace of the Tigers, as Sulmonte scored off a pass from Montalbano to give the black and gold a 6-0 lead midway through the first half.
Tellekamp scored her 100th career point in unorthodox fashion just three minutes later. She was being hounded by two Coastal Carolina defenders as she tried to turn the corner around the cage, dropped the ball, split the defenders to recover the ball and ripped in a shot that deflected off the post and slowly trickled in.
"It means a lot," Tellekamp said. "It's a really rewarding and humbling feeling. Obviously I wouldn't be here without my teammates helping me out on defense and giving me the ball to create offense so it's a team effort."
The road team finally got on the scoreboard with 13 minutes left to go in the half when junior midfielder Haley Alexander bounced in a shot off a quick feed from sophomore attacker Lyla Robinson.
Coastal Carolina had a tough time penetrating the cage for most of the half due to the stout defense of sophomore goalkeeper Kiley Keating. She finished the game with four saves.
"She really made some great stops," LaMonica said. "Kiley is very consistent. She's very stable [and] stays in the zone. Great goalies come up with some great plays here and there. She did that for us here today. I think she's confident in the group she's got in front of her, [but] she wants to step in when she needs to back them up and she did that today."
The Tigers closed out the first half on a high note with two more goals to take a 9-1 advantage heading into the break.
Towson continued its onslaught in the second half as redshirt senior attacker Gabby Cha scored her second goal of the day to kick off the period. Alexander responded with a goal for the visitors, but Towson answered back with scores from Montalbano and Sulmonte.
Each time the Chanticleers got any momentum, the Tigers shut down their rhythm with deflating scoring runs.
Senior midfielder Sophie Crowther converted on a free position shot for the road team, but Montalbano and sophomore midfielder Annie Sachs responded with free position goals of their own to seal the win for the home team.
Towson looks to build on its momentum from this win when the team travels to Sweeney Field Wednesday afternoon to face Saint Joseph's. Game time is set for 4 p.m.
"We've got to go one day at a time," LaMonica said. "We're not looking ahead. We're not looking to Wednesday just yet. We'll take some time to evaluate our game from today. It'll be exciting to get out on the road with the group and begin our trek from home. I think it's fun and keeps everyone on their toes."