Spring Sports Preview 2020
The Towerlight looks ahead to what the new season has in store for Towson's spring sports teams.
Softball
By: Issac Donsky, Contributing Writer
Photo by Amanda Bosse
Towson's softball team will suit up for the first time this season on Friday, Feb. 7 as they begin play in the USC Upstate Classic Tournament.
As head coach Lisa Costello put it, this year will be about continued growth from last year's squad.
"We competed well last year and gained plenty of experience," Costello said.  "We're taking that experience and applying it to this year's team."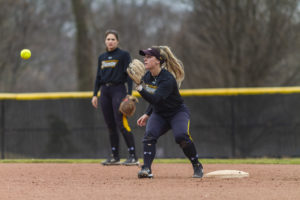 Last year was a rebuilding year for the Tigers. Following a 2018 season that saw the team set numerous program records for offense, Towson had to retool for 2019 with 11 incoming freshmen. They exceeded expectations, going 27-27 and finishing the year third in conference play.
"We had a lot of freshmen on the team last year," Costello said. "So I think finishing third in the regular season is a lot better than many people expected." 
Similar to last year, the 2020 team is a young one, but they have continued to develop as a group and will continue to do so.
 "Considering that we're a team mostly made up of freshmen and sophomores, the gains that we have made this offseason are really great." Costello said.
Unfortunately for the Tigers, their season came to an abrupt end in the CAA tournament with a loss to Drexel. On top of that, star players in utility Nicole Stockinger and outfielder Kendall Arcia, first and third in batting average respectively, both graduated at season's end.
Despite these setbacks, Costello is confident that the team will continue to grow throughout the upcoming season.
"We've built on everything from last year," Costello said. "We're deeper at pitching. Our offense is starting to work together. And defensively we've gotten better."
Leading the way for Towson on offense is senior first baseman Madison Wilson, who was second in batting average last season for the Tigers, scoring 16 runs on 40 hits. There is plenty of young talent for Towson as well as sophomore third baseman Chloe Poulich scored 23 runs in her first season with the Tigers, and fellow sophomore outfielder Nicole Kidwiler scored 16 runs on 13 hits.
If hitting isn't your thing, then look no further than Towson's pitching. Junior Melissa Abrahamian struck out 53 batters last year, compiling an 8-9 record. Sophomore Sara Johnson was one of the breakout young stars of last year's squad — she was named to the All-CAA Rookie team with a 12-10 record, finished the year with an ERA of 3.43, and pitched a total of 155.0 innings which were the fifth most in the CAA. Johnson also finished the year third in strikeouts in the conference. 
Defense is a point of emphasis this season, and Costello has been impressed with the play so far this offseason.
"Our defense has been playing really well in practice for how early it is in the year," Costello said.
Then there is senior  Julia Smith-Harrington, who was the team's best pitcher with an outstanding 2.20 ERA and a 6-3 record. Smith-Harrington also finished second in home runs for the Tigers with eight and had 36 runs on 50 hits.
Towson starts the season off with a long road trip, playing in four straight tournaments before they open up their home schedule against La Salle on Friday, March 6. Costello is not concerned about the extended road stretch.
"We're not going to play a whole lot in February here at Towson due to the weather, so our choices are either go south to play or do nothing at all," Costello said. "We'll go down to North Carolina and South Carolina and we'll get better thanks to it."
The Tigers first game is this Friday at 11 a.m. against Bucknell. They will also play Saint Francis at 5 p.m.
Men's Lacrosse 
By: John Hack, Staff Writer
File photo by Brendan Felch/ The Towerlight
Towson men's lacrosse team is coming off an up and down 2019 campaign. Starting off the season with a hot 5-0 start against wins that included then-top ranked Loyola, it gave the Tigers their first ever No. 1 ranking in program history.  
Despite their success, they also suffered some adversity, losing three straight in March before winning their final four games in the regular season. 
Towson led Maryland 13-12 in the NCAA tournament with under two minutes remaining. However, the Terps came back and won in overtime to end the Tigers season.
"Looking back on the year and then areas that we had success but also areas that we struggled in, we wanted to continue to focus on the fundamentals but also the attention to detail," head coach Shawn Nadelen said. "We struggled at times just being clean in the clearing game and closing out games in a certain fashion." 
Despite losing 10 seniors from last year's team, Nadelen feels confident in the experience of the 2020 Towson lacrosse team.
"It's not that we just looked at (Midfielder) Grant (Maloof) or any of the other seniors directly. It's been well-managed from different guys on the team, which is good," Nadelen said. "Being able to have a voice from different players is important."
Towson lost some key pieces on defense including defender Chad Patterson, sophomores Garrett Zungailia and Mo Sillah are expected to step up this season.
"Defensively, we return our entire close defense," Nadelen said. "We lose Chad, but you know, being able to have guys like Garret and Mo, who played for us last year to kinda fill some of that void, those guys are back." 
Senior attack Brody McLean finished third for the Tigers with 45 points including 39 goals last season and is expected to produce at a similar rate in 2020. 
For redshirt senior midfielder Grant Maloof, Towson still has a strong core and some new additions that should be beneficial.
"We still have Brody (McClean), who is a huge piece of our attack." Maloof said. 
One of the new additions is Denver transfer sophomore attack Austin Stewart. He only played in two games for the Pioneers last season, but he's made a strong first impression with the Tigers.
Expectations remain high for this team after debuting at No. 17 in the NCAA Preseason polls. This year's schedule features many ranked opponents.
This season Towson opens with a match against Johns Hopkins in Baltimore on Saturday, Feb. 8. Their home opener is the following week against Mount St. Mary's on Saturday, Feb. 15 at noon.  
Some of the notable non-conference opponents include Loyola, Cornell, and Duke. Towson opens CAA play on the road on Saturday, March 28 at noon against Hofstra. 
The following week, the Tigers face Fairfield on Saturday, April 4 at noon in their conference home opener. 
Baseball
By: Kayla Wellage, Staff Writer
File photo by Brendan Felch/ The Towerlight
Towson closed out their 2019 season with an 11-6 win against Northeastern, making their final record for the season 14-39 with seven wins and 17 losses during conference play. 
The coaching staff and players believe that the team is well prepared for the upcoming season.
"Overall, we're in a good place. We just need to make sure that we continue to go forward," associate head coach Miles Miller said. "We want to be playing our best baseball at the end of the year." 
The Tigers head coach Matt Tyner returns for his third season, as well as 17 players from last year's roster. 
Junior pitcher Josh Seils is hopeful that this new team will be successful this season.
"I'm just excited to get out here with the guys. I think this is going to be a good group this season," Seils said. "We've gone down a couple guys, but we've got [players] who are going to step up and fill those roles."
Towson will look to get off to a strong start playing their first nine games on the road.
Sophomore outfielder Javon Fields praises his teammates for their effort at recent practices.
"We're constantly working hard. Guys are getting their extra work in and we're getting what we need to get done," Fields said. "We're all just going to come together Friday night and hopefully end up with a 'W'."
This season, the Tigers will face non-conference opponents such as the University of Miami, High Point, and Penn State, and will travel to face the University of Hawaii for the first time in program history. 
"It's a little trickier because we have less information than teams we play every year in our  league," Miller says. "There will be some things we aren't ready for, but we'll prepare the same we would for the teams we're familiar with."
Miller has noticed the culture has changed surrounding the team.
"[This season], there seems to be more purpose with what we're doing," Miller said. "The guys are buying into the things that the coaching staff wants them to do."
Towson finished the 2019 season at the bottom of the Colonial Athletic Association (CAA). 
Despite finishing last in the conference, the team has high hopes heading into this season. 
"I hope we can just string everything together and put together a good season whether we go to the CAA tournament or win a CAA championship and go to regionals," Seils added. 
The Tigers play their season opener against Old Dominion in Norfolk, Virginia on Friday, Feb. 14 at 3 p.m. 
"Opening Day is like Christmas as a little kid," Fields said. "We've been waiting for it since September." 
Towson's home opener will be on Tuesday, March 3 against UMBC.
Women's Golf
By: Brooks Warren, Staff Writer
File photo by Brendan Felch
Head coach Shannon Briggs leads a young team into spring play. The Tigers consist of six underclassmen, two seniors, and one junior. Despite the young team, Towson has some golfers with high expectations this spring.
Last fall, sophomore Jordan Cornelius became the first golfer in program history to earn All-CAA accolades after finishing tied for third place at the CAA Championship. 
She carded a nine-over 225. Cornelius leads a young lineup of Towson golfers that Briggs believes offers her unique depth to work with.
"There could be a little variety in the lineup as the season progresses," Briggs said. "Which is exciting as a coach to kind of, you know, give everyone a chance to test their abilities this season."
Briggs is optimistic about this spring season following a fall season where the team hit the ground running and worked their way to some early success. 
The team will be built around the cornerstone pieces of Cornelius, sophomore Jayla Kang, and junior Sarah Perine. 
Each golfer played in five events and posted the lowest average scores during the fall season, Cornelius averaged 75.1 while Perine was second with 76.6, and Kang narrowly behind at 76.9. 
So far, Briggs says that everyone has impressed her and she believes it could be a sign of things to come.
"To be honest, I could list the whole team, which is a good sign right," Briggs said. "I would say there's definitely a core of the team that has sparked the competitiveness of the entire group and I think everyone is kind of jockeying for those last few spots on the team. Meaning to travel for (the) conference (tournament), that fourth, fifth, and sixth spot."
According to Briggs, the litmus test for the season will be Sunday, March 1 at the Kiawah Island Women's Intercollegiate tournament. 
Briggs also said it's the largest women's golf event in the NCAA with 43 teams playing, it is held over three days and teams play on two different courses. 
"It'll be a great initial test for the girls to kinda see where we stand against some top teams in the nation," Briggs said.
The Tigers will take the course in Kiawah, Island, South Carolina on Sunday, March 1. 
Towson closes the spring regular season with their lone home event, which will take place at Prospect Bay Country Club in Grasonville, MD. This Intercollegiate Tournament begins on Saturday, April 4.
Men's Golf
By: Jordan Kendall, Sports Editor
File photo by Nikki Hewins/ The Towerlight
The 2019 fall season was a tale of two halves. The Tigers finished outside the top 10 in their first two meets. However, as the season progressed, so did Towson as they finished ninth in West Virginia. The Tigers finished the season at the Towson Fall Invitational.
The Tigers finished in fourth place led by senior Spencer Alexander and junior Jackson Courtney. They each finished with a one-over 73.
For head coach Mike Larkin, the improvement the team showed as the season progressed gives him hope for what's ahead of this spring.
"That was a nice trend to see," Larkin said. "We started the season a little rough at Missouri but we had a lot of strong performances as we got towards the end of fall. It's kind of a new different energy so far, seems like deeper commitment from the guys so that's been exciting."
Alexander is the lone senior on the roster, and his leadership has been important for mentoring the younger players.
"He sets a great example as far as how hard he works on fundamentals," Larkin said. "He's a guy always putting in reps in the indoor facility and it pays off when you look at his scoring average."
Alexander's 71.9 average was the lowest of his career in the fall, and Larkin expects him to continue to improve it this spring.
"Sticking to the process and being as locked in as he needs to be and as focused as he needs to be," Larkin said. "Every time he tees in getting his mentality in a locked in and focused state."
Junior Derek Gold's best finish in the fall was 11th place at the Towson Invitational. Larkin believes he has what it takes to enter the top 10 this spring.
"Derek and I had this conversation earlier this week," Larkin said. "For him, a little bit of that mentality as he's having a good round, finishing strong. A lot of it is getting the ball off the tee and course management, always making the right decision and putting in that work to take him as good as he wants to be."
The Tigers' first competition is in Fort Lauderdale, Florida and will be hosted by Loyola. They will travel to Greenville, South Carolina three weeks later for the Furman Intercollegiate. Larkin sees this gap between competitions as an advantage with the opportunity to get familiar with courses coming up later in the season.
"For us, it will be an advantage," Larkin said. "During spring break we're going to North Carolina to the site of conference championships. The entire team will be there. Everyone will have the full week and a lot of golfing and team conversation. So, I expect to go into Furman in a very good place."
Towson will spend April across Connecticut, competing in the Sacred Heart Spring Invite before a one day meet at the Yale Invitational. This will be the first one-day event for the Tigers since competing in the Yale Invitational in 2015. Yale will be the final stop for Towson before the CAA Championships in St. James, North Carolina beginning on Friday, April 24.
"It's definitely unique," Larkin said. "This is my sixth semester as head coach at Towson and the first time we have a single day 36-hole event. This one's kinda different, like you're playing the first day of an event and then you're done. So, it's a little strange but what's nice about Yale is it's a great golf course. I played there in the 2004 NCAA regionals while I was playing at Towson. It will give us a great test before conference week."
None of the start times have been announced. However, the Tigers will take the course in Fort Lauderdale, Florida on Monday, March 2.
Outdoor Track & Field
By: Muhammed Waheed, Asst. Sports Editor
File photo by Brendan Felch/ The Towerlight
The indoor track and field season is coming to an end which means that Towson is now transitioning into the outdoor season.
 Last year, the Tigers finished with 73 points at the Eastern College Athletic Conference (ECAC). This was the best score in program history and trailed Albany by three points who won the event. 
With the success of the outdoor team last season, head coach Mike Jackson has some expectations set for his team this season.
 "We want to win conference, put in a great effort, get more athletes to NCAA first round, and become all-Americans," Jackson said. "And then lastly there's a possibility of making some international teams for some of our student-athletes so we want to prepare for the big stage and make sure we come to play when we get there."
 Jackson believes the key will be focusing on what's important.
 "Focus on team, focus on the reality of highs and lows of athletics and sports," Jackson said. "Doing the right thing, doing the small things right and most certainly being mentally tough and having confidence going into a lot of these challenging opportunities that we have." 
 Some of the upperclassmen are expected to step up this season across multiple events.
 "[Junior] Elisia Lancaster is an outstanding athlete and thrower," Jackson said. "She's going to make a huge impact to our team. [Junior] Adia Cavalier has already broken the school record twice in the triple jump. She's improving in the long jump and sprint."
Junior Asia Chen will be one of the Tigers hurdlers, and Jackson has high expectations for her.
"She runs well in the 400 hurdles as well so she'll make an impact. That's kind of the bulk of the new student-athletes that we have that I think are going to make a really good impact."
 The season begins at the Roadrunner Invitational in San Antonio, Texas going from Thursday, March 19 to Saturday, March 21.
 "This is going to have kind of an early high end feel," Jackson said. "Sometimes we've gone in and done meets that were a little bit more balanced I guess… Just come out with some great performances at the national level and prepare to get back home and start school again."
Towson will compete against schools such as North Carolina State, Navy, and Florida this season.  
 The Towson Invitational will take place on Friday, April 10 and Saturday, April 11. 
The Tigers finished first at last year's Towson Invitational and second at the Colonial Athletic Association (CAA) Championships. 
"That's a really premier event for us and also something that we want to create a safe environment for people watching because it's a big dangerous event," Jackson said. "And then we'll have all the other events on Saturday the 11th so our team always is ready and excited to compete at a meet like our home meet and I'm confident we'll do very well."