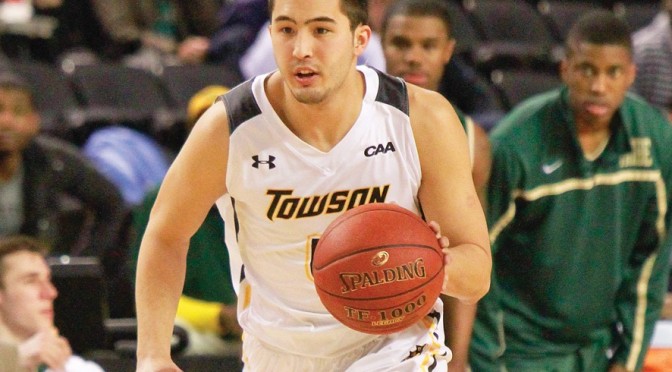 By: Jonathan Munshaw, Editor-in-Chief
Correction: Towson lost to Georgetown 46-40, not 64-40. The Towerlight apologizes for this error.
The Tigers continued their hot streak to open the season, winning two more games over Thanksgiving break, one last Wednesday against Goucher and another on Saturday at home versus University of Maryland, Baltimore County.
Towson (6-1) won't begin Colonial Athletic Association play until after the New Year, but Head Coach Pat Skerry said the team doesn't get caught up in whether they are facing CAA opponents.
"The next game is always the most important game," he said. "But while we're doing that, we want to develop some habits and tendencies that will make us successful in conference play. Certainly, they all matter."
On Nov. 26, Towson scored its most points in a game since Dec. 10, 2013, putting up 97 points against Goucher to win, 97-43.
Every single player made at least two shots that night, and freshman point guard Byron Hawkins led all scorers with 19.
Skerry said that he believes Hawkins is the team's fastest player in the open court with the ball. However, on the season, he's struggled to shoot the ball, making just 33.3 percent of his shots and six of his 20 attempted three-pointers.
Saturday, the Tigers continued their dominance on defense, defeating UMBC, 77-66.
Towson is now 77th in the nation in scoring differential, outscoring its opponents by an average of 10.9 points per game.
"For the most part, we've been pretty good defensively and on the backboards and getting to the foul line," Skerry said.
On defense, no one stood out with blocked shots besides junior power forward Timajh Parker-Rivera, who has 10 swats this season.
No other player has more than four blocked shots.
Still, Skerry said his team has put forth enough effort on defense to stagnate opponents.
"It's a team effort. We do what we do. It's our identity. I believe that if you guard, it'll give you a chance every night," he said.
Towson is holding opponents to 38.2 percent shooting, which ranks 65th out of the 345 Division-I basketball schools.
The rotations were fairly balanced over Thanksgiving break, especially in the blowout against Goucher.
Skerry didn't have to play his starters for long when facing the Gophers, and no one player played in more than 24 minutes, while every player appeared in at least 12 minutes of action.
In a closer game against the Retrievers, two players (graduate forward Alex Gavrilovic and McGlynn) played over 30 minutes, but only one (senior forward Jamel Flash) saw fewer than 11 minutes of playing time.
Skerry said he's not purposely spreading time around, but because the team is so deep, his bench players see more time.
"We've got some guys who are 30 minute-type players, but our depth is so terrific it might not shake out that way," he said. "We want to use our depth, we want guys to be hungry and continually improve. "
Towson's next game will be its last appearance in SECU Arena before winter break as it faces Coppin State on Wednesday.
The Eagles rank last in D-I in field-goal percentage allowed, allowing their opponents to shoot 58.4 percent from the floor and last in scoring defense, with opponents scoring over 101 points per game against them, although they've only played four games so far this season.
However, Coppin State is tied for 45th in three-point field goals per game with 8.3.
Tip-off is scheduled for 7 p.m.
The Tigers will then travel to Washington D.C. on Sunday to face the Georgetown Hoyas.
Towson is 0-4 in its history against Georgetown, with the latest loss coming Dec. 8, 2012 by a score of 46-40.
It will be the first game against Georgetown without former Hoya-transfer Jerrelle Benimon.