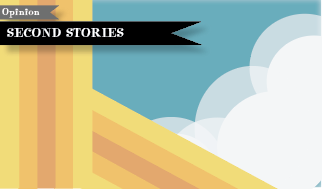 The world awakens (or, an ode to the nice weather)
By: Sam Shelton, Senior Editor
"Pitch Perfect" came out in September 2012, just months before my scheduled march across my high school commencement stage that May. As we all know by now, the film — which stars my boyfriend's One True Love Anna Kendrick — follows the story of college freshman Beca Mitchell, who is 2 kool 4 skool until she falls into the a cappella universe and ultimately makes way more friends than she would have sitting alone in her dorm room.
Same, Beca. Same.
I really liked this movie when it first came out, or at least before my mother began twice-weekly showings of it in our living room. It hit me at the exact right time. I was the exact target audience: young, dubious about the future, and heading off to college. I was Beca Mitchell, except I was really excited about everything.
What struck me most about the film wasn't the music or the sisterhood or the humor (though all were pretty good). What struck me was the idea of a campus where people did whatever they wanted, be it  playing guitar in a place where nobody else wanted to hear it or laying out on some mysterious, omnipresent "quad."
As an aside, why does every single college movie involve the hip kids hanging out around something called "the quad?" What is a quad, and who do I have to thank for not naming anything on our campus as such?
Anyway, I was awestruck by the fact that people went outside in their free time — to study, to tan, to hang out, to do whatever. My high school didn't even have windows. Outside means freedom and community, a way to escape the rigid confines of class and technology and stagnating fluorescent light. Four years worth of finals, papers and semester-long projects have beaten some of the youthful awe out of me, but every spring I'm reminded that I used to be less dead inside.
When the weather gets nice, people go outside to enjoy it. And that's precisely what you've all been up to.
Haikus for the Boys on the Bench
You sit with your dogs,
Awash in our attention,
Profiting from pups.
Must be warm for them,
Fluffy coats and panting tongues.
They are dang cute, though.
Vaginal Discourse
As I walk to class, with the Union's doors just steps behind, I hear some rando shout to some other rando, "You like vaginas?!" It's meant to elicit a laugh, not actually ask a question. I don't quite get the joke.
Nearby, a blonde girl I know tangentially and a colleague of hers — a girl I don't glimpse enough of to remember or describe — advertise a play, a show. Around them, a flock of students, separated into cliques or groups or clubs or friends, talk so much that the "U" outside Susq Terrace buzzes with energy and life.
The koi keep swimming without care, finally thawed with the arrival of spring.
"Come see the Vagina Monologues!" The blonde or her friend, or someone else entirely, says. It debuted this weekend.
Like the koi and the inevitable chatter of young adults, women are near-unstoppable.
The Election
It's just barely Wednesday afternoon, some two or three hours since I've last seen him, when I spy Towerlight photo editor Alex Best walking in circles just outside my window by the koi. He's got a slim packet of white papers in his hands. I know what he's doing, so I don't watch long. It's April, which means it's time to choose next year's student leaders. The first public step toward achieving this end comes in the form of Student Government Association petitions — think Alex's packet of white papers — which denote intention to run and require the interested student to collect a number of signatures from their peers in order to be eligible. I suspect it's these signatures that have Alex wandering about the plaza.
I don't envy him.
Sometimes SGA elections are really interesting and controversial, and other times, they are, unfortunately, really boring. But it's important to vote regardless, because the SGA handles student group funding and has a hand in pretty much every event and initiative on campus. If there's something you think is messed up about the student experience, let them know with your votes and your voice. Petitions for all positions are available from the SGA office, Room 226, and candidate information sheets are due by April 21 at 4 p.m..
At some point after looking away from Alex, I glance back out the window. The plaza is empty now, abandoned by students in favor of going home or heading off  to class. After the buzz has died down and the area has cleared, the koi get some time to themselves.
It's quiet. But it's nice, too.