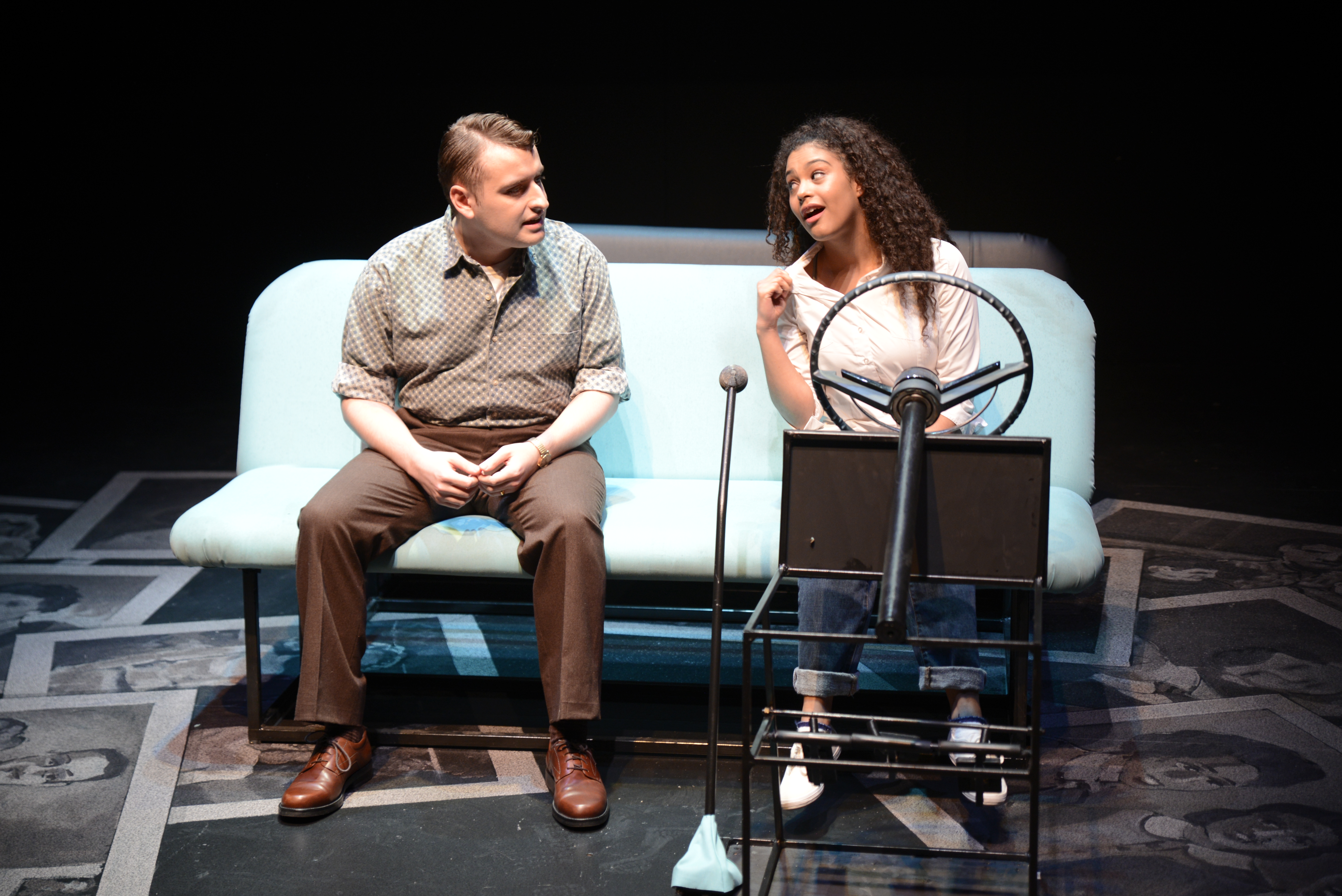 Towson theatre tackles consent and sexual assault in Paula Vogel's "How I Learned to Drive"
By Kerry Ingram, Associate Arts & Life Editor
Featured image courtesy of Jay Herzog
In light of the Time's Up and Me Too movements, more and more attention is being put on the topic of consent. Although more adults are speaking up about this issue, sexual assault remains a major issue among younger individuals, and the effects of such trauma can last a lifetime. According to the National Criminal Justice Reference Service, one in five women and one in 16 men are sexually assaulted while in college.
Donna Fox, a theatre professor at Towson, captured this issue in her directorial portrayal of Paula Vogel's "How I Learned to Drive," giving her audience a creative crash-course in consent and sexual violence Saturday night.
The show, which Vogel describes as a combination of "sadness and comedy," takes on the story of a woman and her experiences with sexual assault through her teenage years. As one enters the Studio Theatre in the Center for the Arts prior to the show's start, they can see a set plucked from a different time period. The center of the stage was occupied by two rows of old-style interior car seats, with a driver's wheel and pedals placed in front. On the left and right sides were minimalistic set-ups, each showing age in the set pieces that they were comprised of, and '60s tunes played in the background as audience members took their seats.
The play addresses so many issues enveloped in the analogy of learning how to navigate one's way through life. The music, which Fox described as "another character in the show," leads the audience in the direction of the characters' emotions, and the lighting cues act as an additional guide in the storytelling. The five-member cast acts through anecdotes shared by the lead, Li'l Bit (Aryama Colon-Pappaterra), as she tells her story of how she learned to forgive the trauma that her Uncle Peck (Alex Wynd) has created in her.
The reverse-chronological show was written by Vogel with the intent of pointing out the culture of victimization that exists in the modern world, and how abuse is often inflicted by those we know and trust. Using humor mixed with strong lines to address heavy topics, from alcoholism to victim-blaming and assault, "How I Learned to Drive" highlights the issues many people are uncomfortable to talk about. This notion of "speaking up" is indirectly pointed out as well – with the characters' lives taking place in a decade prior to hashtags and social media, the only "platform" for Li'l Bit to share her experiences is through the play's narration.
"The play is set in the '60s and [Li'l Bit] did not have resources," Fox said. "She didn't have places to turn. Now people know they can speak up, that they should be listened to, and that they don't have to hide what they have gone through. They don't have to feel ashamed. It's never the victim's fault."
According to Fox, the cast and crew spoke with TU's Counseling Center to approach the show's content in a sensitive manner, and made sure to discuss their own comfort levels throughout the staging of the show. Although there is only one moment in which physical assault is shown in the production, it is that moment that encapsulates the entire purpose of the play. As I watched the story unfold, I felt a deep connection with Li'l Bit's story, but it wasn't until the clear assault occurred that I realized just how serious of an impact one person's decisions can have on someone else's life.
Fox warned of this depiction of sexual assault.
"[The assault is] the briefest of moments," she said. "It makes the audience uncomfortable, which it should."
The show's timeliness is chilling. According to Fox, the theatre department selected the play about a year and a half ago, before the Time's Up and Me Too movements had begun. Yet the show applies so perfectly into today's narrative.
After viewing the show, I felt even more inclined as a young adult to use my voice, not only for myself, but for those who are afraid to use their own. It's important to acknowledge the uncomfortable, especially when something like sexual assault happens so prevalently in the college community. As a woman, I easily sympathized with Li'l Bit and her sexual journey, however the show prompted viewers to also look at men's viewpoints in terms of assault as well.
Despite all that Li'l Bit shares of her journey towards womanhood, her story ends with one of forgiveness and moving forward. Fox stressed the importance of allowing those who have experienced sexual assault to stand up and be heard.
"The play Is very hopeful," Fox said. "It's meant to show that no matter what happens, your past does not define you. Never blame yourself for what happens to you, and don't be afraid to use your voice. You deserve to be listened to."
Although I've held a license marking my adulthood in my hand for three years, "How I Learned to Drive" was the show that taught me how to steer through life's roads in order make it to my desired destination.
The show premiered March 7, and will continue to run through March 15.
*If you or someone you know has experienced assault, abuse, and/or needs someone to talk to, contact TurnAround's 24-hour helpline (443-279-0379) and/or the TU Counseling Center (410-704-2512) to speak to an advocate or learn more about reporting and healing options. You are not alone.