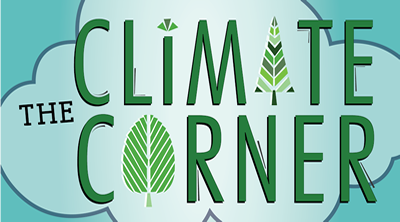 What a waste: How to improve your trash habits
By: Marcus Dieterle, Editor-in-Chief 
You know how the saying goes: one man's trash is another organism's ecological hazard. Well, something like that.
In 2014, the United States generated about 258 million tons of garbage. When that waste doesn't get recycled or composted, it typically gets carried away to a landfill – where toxic chemicals seep into the soil and water – or gets cast away as litter.
The "Great Pacific Garbage Patch," a floating plot of trash between California and Hawaii, is one of the more visible representations of waste's effect on marine ecosystems.
According to a paper published in Nature Scientific Reports, scientists estimate that the GPGP is comprised of at least 79,000 tons of ocean plastic in an area of approximately 617,000 square miles. To put that in perspective, that's about the weight of 6300 school buses and takes up a surface area the size of about 50 Marylands. While the garbage patch is primarily composed of abandoned fishing gear, it does speak to the growing issue of trash in our waterways.
Speaking of Maryland, our great state is far from innocent when it comes to its own garbage issues. On May 9, 2014, Baltimore implemented a water-wheel vessel called "Mr. Trash Wheel" to collect trash in the Inner Harbor. "Professor Trash Wheel" joined her trash-collecting buddy in 2016. Since the inception of Mr. Trash Wheel, the two vessels have collected over 1.5 million tons of garbage and debris. The top culprits? Plastic bottles, polystyrene containers, cigarette butts, glass bottles, grocery bags and chip bags.
As trash breaks apart, wildlife might mistake them for food. Animals can either choke on the debris or become contaminated with the garbage items' chemicals which can, in turn, work their way up the food chain to humans.
So what can you do to mitigate the negative effects that your waste can have on the environment? For starters, make an effort to create less waste in the first place. If you're packing a meal to bring to campus, opt for a reusable container rather than plastic bags or other single-use containers. As you're trying to stay hydrated throughout the day, carry around a reusable water bottle instead of a disposable plastic one to reduce the number of bottles ending up in landfills and waterways. Other ways to reduce the amount of trash you create can include things like bringing your own bags to the grocery store or not using plastic straws in your beverages when you go out to eat.
When you're eating in a dining hall, limit the amount of food you take on your first go or even choose to go trayless. That way you won't be tempted to take more than you can eat, and you will be less likely to waste food that will otherwise need to go to a landfill or be composted.
Reducing your waste is a solid start, but nobody expects you to cut trash out of your life completely – unless you're a zero-waste whiz who can literally carry your life's trash in your hands. There are, however, ways to be smarter about the waste that you do create. Recycling is a big one. Educate yourself about what can and can't be recycled. The dining locations around campus have helpful diagrams above the bins to help you navigate whether to take your waste and trash it, recycle it or compost it. Towson University is currently participating in the nationwide RecycleMania competition and still has two weeks left, so be smart about what you can recycle. You can also contact TU's Eco-Reps with any questions about sustainable living.
Waste is a natural part of our daily lives, but we can definitely improve the impact we have on the environment by reducing the amount of trash we produce. When it comes to our planet, we only have one. So "waste not, want not" and Earth's resources will be here for generations to come.