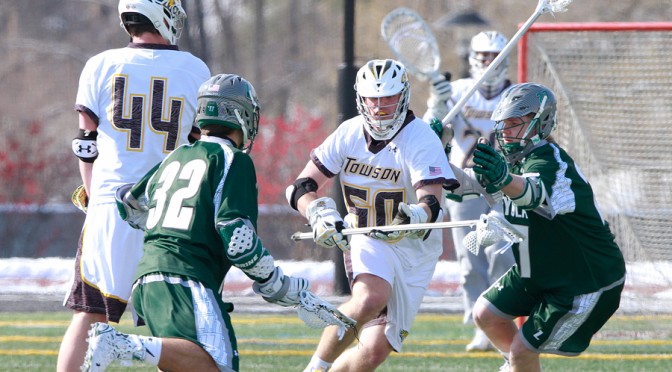 Winning again in Baltimore
By: Tyler Beard, Staff Writer
No. 14 Towson defeated UMBC, 11-7, on Saturday at UMBC Stadium.
"This was a nice way for us to rebound," Head Coach Shawn Nadelen said. "We had our opportunities against Navy that we didn't capitalize on, but we came out strong against a well-disciplined UMBC team."
Redshirt senior midfielder Andrew Hodgson led the Tigers (4-2) with four goals against the Retrievers (2-3).
"It's massive to come out and get this win," Hodgson said. "The biggest thing we talked about was to have a quick turnaround. We wanted to hop right back on the horse and get back out there."
Hodgson scored the first two goals of the first quarter, which were followed by goals from sophomore attacker Joe Seider and junior attackman Spencer Parks. The offensive output gave the Tigers an early 4-0 lead and the defense shut the Retrievers out in the first quarter.
UMBC rallied and scored three straight goals in the second quarter, but were answered back by a couple of goals from Towson. Sophomore attacker Ryan Drenner scored the last goal of the quarter and Towson went into the half with a 6-4 lead.
"It helps when you start the scoring first," Nadelen said. "Our guys were able to capitalize on their chances in the game and I was happy for them."
Towson out-shot UMBC 20-10 in the first half and only turned the ball over three times.
Seider started the third quarter with his third goal of the game and the Retrievers scored the only other goal of the quarter five minutes later.
"I think the offense was just clicking today," Seider said. "The [midfielders] really broke down their defense and worked the ball very well."
The Tigers pulled away with four straight goals at the start of the fourth quarter and came away with its third road-win of the season. They finished 2-1 against Baltimore teams, the best such record against those teams since 2006.
Towson finished with 32 ground balls in the game and sophomore midfielder Alec Burckley won 15-of-21 face-offs.
"You just have to keep playing as hard as you can," Hodgson said. "Overall, our motto is to take the hill and take it one game at a time. You got to keep climbing up the hill as a team and keep climbing even if you sink at times."
Towson's next game is at home against the Hobart Statesmen on Saturday.
"We're going to approach every game the same way," Nadelen said. "We have some new opponents we haven't faced in a while so we need to be ready to play them."