Former diving coach Maureen Mead gets three years probation for locker room recording
By: Cody Boteler, Senior Editor and Sam Shelton, News Editor
Former Towson diving coach Maureen Mead was sentenced to three years of unsupervised probation before judgment today after pleading guilty to two criminal misdemeanor charges.
The charges were related to a smartphone found recording in the on-campus women's swimming and diving team locker room.
Mead, 43, who was accused of positioning the phone to record members of the team on the morning of Oct. 16, pled guilty to charges of video surveillance and altering physical evidence in a criminal investigation.
"Rarely do I see [a case] that troubles people in such a personal way," Judge Jan Marshall Alexander said.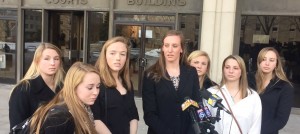 Seven women from the team, who were in the locker room when Mead's phone was found, made statements before the court. Two of the girls likened Mead to "a second mom." The women who testified did so through or on the verge of tears.
Mead reached a plea deal with prosecutors, and the felony charge, intercepting communications, was dropped.
On Nov. 23, Mead was charged with interception of communication, peeping tom and altering physical evidence in a criminal proceeding.
Mead's employment with the University ended the next day, but she did not resign. The University could not comment further, but Mead's attorney, David Irwin, said in court that she was fired.
As part of her probation, Mead was ordered by Alexander to not make contact with members of the team, to stay away from campus and to not coach or train in any capacity.
If Mead successfully completes her probation, she will not have criminal charges listed on her record.
"We respect the judicial system and the process that took place today," Director of University Communications Ray Feldmann said. "This is a difficult situation and we will continue to provide support for our student athletes. As always, the welfare of our students remains our highest priority."
The Towerlight will update this story with more detail.