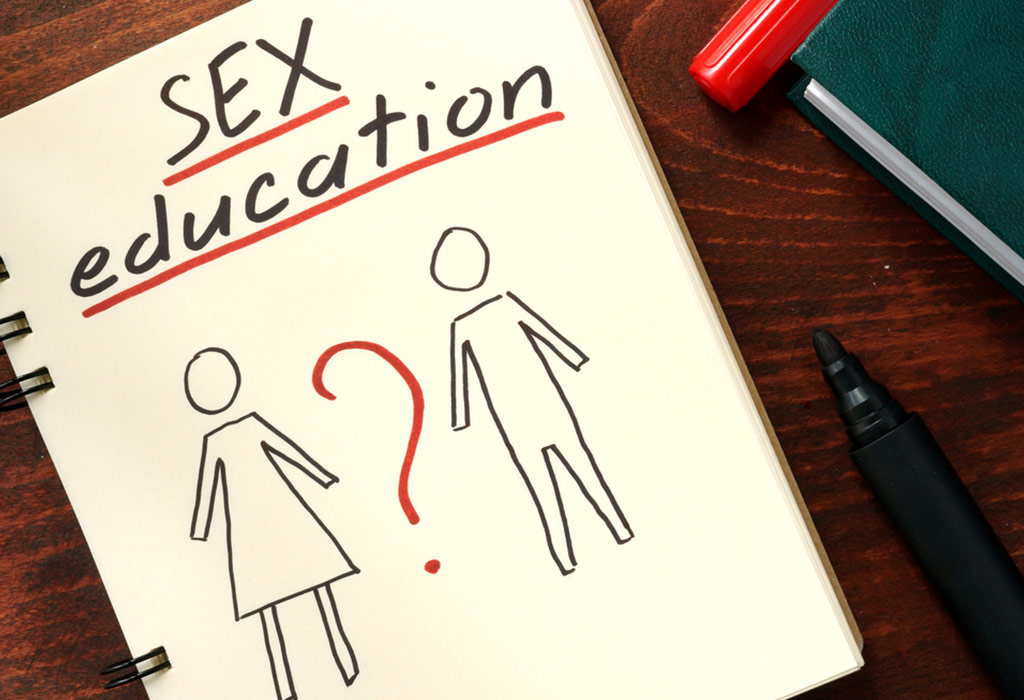 Reaching the sexual finish line
By: Christian Benford, Contributing Writer
Featured image courtesy of FirstCry Parenting
"How can you help give a woman an orgasm?"
This question was presented to Towson students at the annual "I Heart Female Orgasm" event hosted on campus this past week, which gave students the sex talk they wish they had with their parents and teachers.
"Consent," a few students in the audience exclaimed, their answer being followed by applause. The question and answer set the tone for the rest of the night, inviting the TU community to come clean about dirty topics.
Instead of sticking to traditional sexual education methods, the event's presenters, Lindsay Fram and Marshall Miller, decided to make their informational presentation a comedic one. The method was aimed at getting the audience more engaged and eager to answer questions given to them.
Throughout the night, students at the event were laughing at the videos being shown, product reviews for certain items and stories in general. Others got the opportunity to ask questions regarding the female body and other sex related questions.
Fram, a professional sex educator, stepped in and detailed that she had worked with secondary school students for a long time, crediting it as being fun yet very limiting.
"You can't always talk about things like pleasure and orgasm when you're working in a school system," Fram said. "And working with college students gives me a little bit more liberty when talking about things that I think are really important and [that] most college students haven't gotten in their high school education."
Fram was very open about her own personal stories, such as her self-discovery of mastubration, but presented them with a humorous tone that many students could relate to. Her goal was not only to teach the students about sex, but also to let them know that no one is alone.
"I Heart Female Orgasm" also had an underlying theme of breaking the taboo of females not being able to talk about sex, given that this entire event mainly focused on women and sex.
After the event, Lyriq Robinson, a marketing major at Towson, said that this was a much better way of learning sex ed compared to the ways secondary schools teach it.
"The I Heart Female Orgasms Event was great," Robinsons said. "I love the idea of spreading awareness to those who aren't as enlightened in the fields of sexual education as they should be. It was very eye opening and good to know that I wasn't alone."
Robinson added that the comedic aspect and the videos (consisting of a scene from "When Harry Met Sally," "Big Mouth," and a condom ad)  helped sell the presentation to her.
Rachel Wallace, a freshman at TU, also shared how the event made her feel less shy towards conversations surrounding sex.
"I really enjoyed the event," Wallace said. "I thought it was very inclusive and informative about female sexuality. I learned from it that the female orgasm doesn't have to be a taboo topic and that communication and education on these types of topics can be very beneficial."
Students stayed after the event to ask Miller and Fram more questions on taboo topics, such as masturbation myths, in which the presenters got the opportunity to debunk ideas students had, from the concept of "losing sperm" to its health benefits.
Miller left the book, "I Love Female Orgasm," written by himself and his partner, Dorian Solot, for students to read and pick up if they were interested.
The book is informative and descriptive about women and sex. Not only this, it talks about the problem with pornography and the "do's and don'ts" of sex.
"I Heart Female Orgasm," overall, was found by many students to be an entertaining way to present the myths surrounding sex and leave long unanswered mysteries solved.