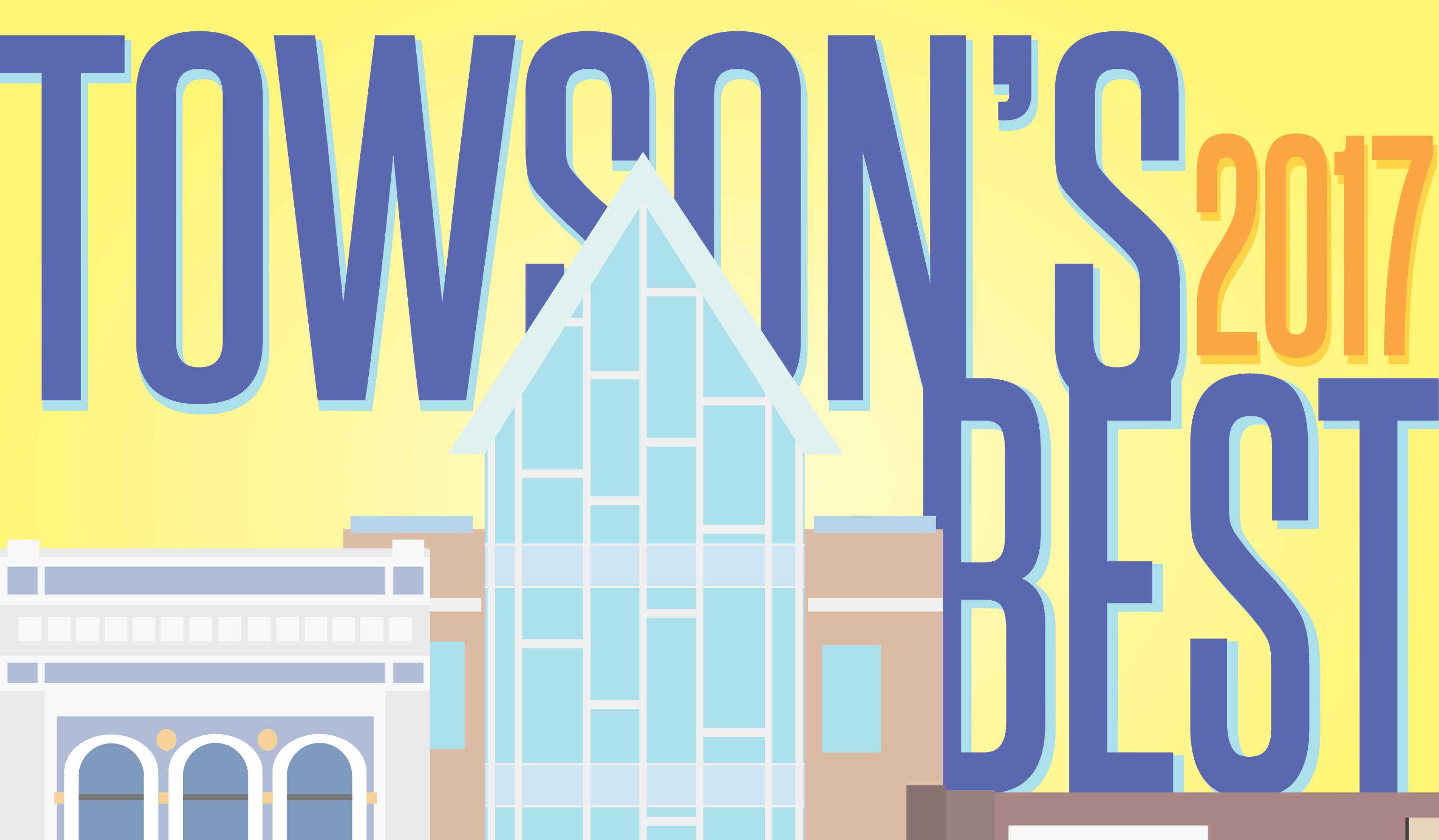 We asked, you voted and we heard you. Keep reading to see what the campus community decided was the best of the best of Towson University and the surrounding area. 
Best place to live: Anywhere off-campus
Basically everyone agrees that no matter where you're living, you'll enjoy your college experience more if it's spent living off-campus. It might not be as convenient as living several steps away from a dining hall, but that's a small sacrifice to make, especially if you live near a grocery store and a shuttle stop. Some students opt for city living (shout out to the Collegetown Shuttle) while others prefer to be closer by, but no matter what apartment complex you call home, it's better than a room in pre-renovation Residence Tower.
Best Residence Hall – Douglass
Douglass House. The Doug. Whatever you choose to call it, there's no denying that for the second year in a row, Douglass has the best on-campus housing. And why wouldn't it? With one of the tightest-knit communities on campus, you'll definitely feel at home here. Douglass is home to many of Towson's Honors College students, and the study lounges are full more nights than not. But don't let that fool you: The Doug knows how to have a whole lot of fun. Bonus: Residence Life Coordinator Andrea Polleys has a puppy named Pippa, who you can follow on instagram @douglassdog.
Best on-campus eats: Au Bon Pain
Hawkins Hall, First floor, aubonpain.com
Before there was Au Bon Pain, there was a bare-bones, pseudo-cafe and fast casual eatery called Brick Street Cafe, and it just didn't compare to what we have now. Brick Street, which closed in 2014, was good for the quick bagel or mac n' cheese fix, but Au Bon Pain is a bona-fide Panera Bread-esque testament to ciabatta and tummy-warming comfort food. Stocked with an abundance of baked goods, smoothie and salad stations, and of course, the ever-important sandwich line, ABP is a good go-to for any meal. Everybody knows how great it is — which made naming it Towson's Best pretty easy — but that means the lines can get long, especially around lunch time. Luckily, the center soup station is there for you, for a quick and painless solution. Grab and go.
Best Place to Park: Nowhere
C'mon guys, really? Don't get me wrong — this is hilarious, and Towson is definitely lacking in the parking department. But nowhere? Yeah, it sucks driving around and hunting for a spot. But there are, sometimes literally, hundreds of unfilled spots.
…Wait, those unfilled spots are on south campus, half a mile away from the academic core? OK, yeah, that sucks a little bit. Never mind. Y'all are right. The best place to park is nowhere. Take the shuttles or ride your bike or walk. The other option is to show up like an hour before your class so that you can try and find a spot — or find a spot at the Towson Center and walk to the core of campus. Neither is a great option.
Best Shuttle Route: Gold Route
This on-campus route is a MUST when it's raining, pouring, snowing or you're still snoring on the way to class. The Gold Route hits every hot spot on campus, from West Village to SECU Arena and back again over and over and over. The route, which even runs on limited hours during the weekends, offers picturesque views of everything from Johnny Unitas' bleachers to the Liberal Arts Building's wide windows and the Stephen's clock tower. And now, with an updated shuttle tracking system (www.tutigerride.com) and text alerts, you'll know for sure when you're better off walking to the shuttle stop or running to class.
Best bathrooms: Liberal Arts Building
This is one that I don't understand. The CLA bathrooms are kinda cramped feeling and if you don't catch them at the right time, totally crowded. I guess y'all like them because they're convenient and typically pretty clean? I dunno. I can't pretend to support this pick. The only cool thing about the CLA bathrooms is the secret showers (I'm not lying, check out the first floor). If you really want the best bathrooms on campus, I'd recommend the third floor of the West Village Commons.
Best study spot: CLA
The College of Liberal Arts building is big, beautiful and spread out. So spread out, in fact, that if you're looking for a quiet place to study, you can almost certainly find a table to place your textbook on — or a comfy chair to slouch in. The CLA has a little-trafficked fifth floor — with an area carved out with tables and armchairs that can be used for group or solo studying. There's the cafe on the fourth floor, open 7:30 a.m. to 7p.m. Monday through Thursday. and 7:30 a.m. to 3 p.m. Friday, so you can quickly refuel during cram study sessions. And, if you're looking for somewhere especially quiet, there's a quiet study lounge on the fourth floor.
Best student-led project: #NotatTU
towson.edu/notattu
Diversity, inclusion and safety have all been hot button issues on Towson's campus and around the world in recent years, and you guys have clearly responded. Relating to racial equality actions like the November 2015 #OccupyTowson and a bias incident at the CLA Cafe in April, the hate/bias language prevention and reporting campaign aims to make Towson University a more inclusive and welcoming place for all students by encouraging students to report hate/bias language experiences, which are then investigated by the university. On the campaign's official website, towson.edu/notattu, students can report hate crimes and bias incidents and learn about available resources, like what to expect after submitting a report and various hate and bias examples.
Best student group: SGA
University Union, Room 226, towsonsga.org
The Student Government Association is, really, the student group to end all student groups. Elected each year, these student leaders have their hands on the purse and determine, in part, how student fee money is distributed throughout other student groups on campus.
Yeah, seems pretty fair to call them the best student group, with that sort of influence on campus.
The SGA office was recently renovated, and it's become a really nice place for interested students to get to know their student group's senator or get involved with campus events and activities.
The members of the SGA have also been a driving force in some critical campus movements, notably #NotAtTU, to try and make campus a more welcoming environment.
If the SGA sounds like your kind of group, keep an eye open. It won't be long before election packets go out and students can start running to be a senator — or a member of the judiciary or executive board.
Best administrator: Kim Schatzel
President Kim Schatzel started her time at Towson just over a year ago, and she hasn't stopped taking campus by storm since.
Schatzel, whose office is across the street in the Administration Building, is frequently found at after-hours campus events taking selfies with students, shaking hands and getting to know the campus she now oversees.
If you haven't checked out her Instagram yet, you absolutely should. Not only will she post some great pics from around campus, but you can get familiar with her ADORABLE trio of dogs.
Best way to improve TU: Parking
Is this really a surprise? We all have a hard time finding somewhere to park — be it morning, noon or night. It's hard. In a perfect world, yeah, maybe we could all plan ahead and park over by the Towson Center, where spots sit empty most days, but it's just not realistic. People will run late, and people will wear uncomfortable shoes and not want to walk that far, and the shuttle schedule won't work well for everyone or arrive on time. So please. Please please please please please please. Someone find a way to squeeze out a few more spaces.
Best Reason: "Big School, Small Feel"
You guys provided a lot of reasons for this one, with no clear winner, but the closest thing we had to a consensus was that Towson is a "big school with a small school feel" — campus' most famous phrase.
In addition to being one of Towson's best marketing points, this is also definitely, definitely true. Even though we've got over 20,000 students, I've never had a class with more than a few dozen. I could send an email to any professor I've had and get a response, I recognize handfuls of people everywhere I walk — Towson University really does maintain a community feel.
Best apartments: University Village
408 Campus View Dr., uvtowson.com
If you are looking for the best place to live at Towson University, look no further than University Village. Located right across from the Center for the Arts, University Village is just a short walk away from campus. Along with a close walk to campus, University Village has plenty of amenities to keep its residents entertained. Hot day in the summer? Go take a dip in the pool. Need a quick workout? Go to the gym. University Village is without a doubt one of the best places to live at Towson.  
Best grocery store: Weis
Towson Place, 1238 Putty Hill Ave., weismarkets.com
You just got back from class, and you're out of food. But, let's face it…you're pretty comfortable at home and you probably don't feel like going too far for groceries. Look no further than Weis Markets, less than a five-minute drive from campus. Here, you can find good eats at generally good prices…did we mention that you can buy a box of pierogies for less than $5? And, it's never as busy as Target, so you can get in and out just in time for the next episode of The Bachelor. If you're into that sort of thing.
Best pizza: Lotsa
319 York Rd., lotsa.com
It's late on a Thursday night. You're uptown, you're hungry and you maaaaay have had a little bit to drink. Luckily, there's a solution: Lotsa Stone Fired Pizza, conveniently located right down the street from places like Turtle, Lil Dicky's and The Rec Room. Here, you can build your own pizza, or choose from a list of signatures like Buffalo Chicken or Old Bay shrimp. And bonus: it's open until 3 a.m. on weekends. It's a popular spot at any time of the day, but standing in line for a little while is well worth it.  No matter when you go or what you order, we can definitely say that you'll have Lotsa fun.
Best dessert: Cheesecake Factory
Towson Town Center, 825 Dulaney Valley Rd., thecheesecakefactory.com
Whether you're celebrating your birthday, want to reward yourself for acing your midterm, or you just need to satisfy the munchies, your best bet is dessert from Cheesecake Factory. Located in the Towson Town Center, Cheesecake Factory gives you over 30 cheesecake options to choose from —  and a few delicious non-cheesecake desserts too (but who actually orders ice cream or a bowl of strawberries from Cheesecake Factory?). If you're trying to be healthy, go for the low carb cheesecake (with strawberries)– the graham-walnut crust and splenda substitute are surprisingly just as good as the more decadent options. But why not do yourself a favor and treat yo'self to Adam's Peanut Butter Cup Fudge Ripple cheesecake or the new Chocolate Hazelnut Crunch Cheesecake (with Nutella)? You can thank me later.
Best Coffee: Starbucks on York
31 York Rd., starbucks.com
Yup, seems simple enough. Good coffee, close enough to walk…checks off all the boxes. It does get crowded and the drive-thru can be an absolute nightmare (especially when people cheat and enter the drive-thru from York!), but the staff almost always works as quickly as they can, and they stay really friendly while they do it.
It's worth mentioning that the coffee shop in Cook Library is now a full Starbucks, too — and that they accept meals and point after 4 p.m. But if you're in Cook, there's no escaping that you're on campus. The Starbucks on York is a nice little break from the Towson Bubble.
Best Delivery: Towson Best
527 York Rd., towsonbest.com
Towson's best delivery is, go figure, Towson Best. Chinese food that's cheap and tastes good? Late-night delivery? Really, really good dumplings? That's Towson Best. Even if wasn't the Best, it's only a five minute walk from campus and located uptown, so they'd still have our money anyway.
Best place to work out: Burdick Fitness Center
Burdick Hall, Gym 1
The best place to workout on campus was no real contest–and if it was, Burdick probably wouldn't have won. I mean, unless you actually enjoy fighting for one of only twenty-or-so cardio machines, you're probably better off getting some free weights and jogging around campus. I don't mean to be harsh; at least Burdick has a machine for every muscle group–and ladies, you even get your own free weights upstairs, as long as you only lift up to 20 pounds. To avoid the crowds, your only option is to arrive between 6:30 and 8 a.m., or about an hour before the gym closes at 11 p.m. (Mon-Thurs). But what other local gym can boast a sweet rock climbing wall? Too bad it's all under construction right now.
Best Bar: Greene Turtle
408 York Road, thegreeneturtle.com
Yes. Absolutely. The Towerlight agrees. Greene Turtle is within walking distance (which is SO important. Don't drink and drive!) and close to other fine Towson establishments (which I'm just not gonna name right now). Turtle has a killer rooftop bar (with heat lamps and fire pits during cold weather) that lets you enjoy a crowd without feeling crowded, because of the open air.
Yeah, going to a bar is a little pricey. But Turtle has a hilarious "Turtle Bouncers" Twitter, some cool Towson-specific shirts and the great, but risky, "Twofer Tuesday."
Best liquor store: Wells
6310 York Rd., wellswine.com
Wells is huge. The sign out front currently reads, "If it's in stock, we have it," but jokes aside, they pretty much are always stocked with any wine, beer or liquor you could ask for. The other day I stumbled upon what I presumed was a box of wine only to realize it was a box of *Fireball*. (Who needs–or wants to admit they need–that much Fireball?) They have free tastings every so often, which is awesome, and they're also pretty cheap and have sales all the time. However, if you're looking to get a student discount, you'll have to go to Crackpot Liquors on Loch Raven Boulevard. Just bring your OneCard.  
Best Club: Torrent
512 York Rd, torrentnightclub.com
For the second year in a row, Torrent Night Club was voted as the best club in the Towson area. The popular spot has seen no decrease in popularity since opening its doors in 2014. With performances by local DJs and the occasional theme parties, Torrent keeps the 18 and over crowd engaged and coming back for more. Complete with its flashing LED lights and aggressive electro beats, there's no better place to be on a Friday night than Torrent.
Best happy hour menu: On the Border
Towson Square, 121 Joppa Rd., ontheborder.com
College students live for affordable alcohol and affordable snacks, and On the Border, a staple of the Towson Square Complex, delivers on both. The Happy Hour menu (available Monday-Friday, 3-7 p.m. and again Sunday-Thursday 9-11 p.m.) boasts a medley of appetizer options — including but not limited to queso, cheese quesadillas, chicken or beef empanadas, mini tacos and guacamole — all under $4. Be warned, the portions are small, but it's cheap and delicious, and On the Border customarily provides complimentary chips and salsa for free. As for the alcohol, select domestic drafts range between $2-$3, while the grande house margaritas (which are very good) and Coronaritas (which are also very good) cost only $4 and $5, respectively. Grab a friend, get some margs and bask in the glow of your $15 bill.
Best hangover cure: Towson Hot Bagels
16 Allegheny Ave., eatthb.com
I learned two lessons very early on in my collegiate career: Fireball is bad, and THB is so, so good. Waking up after a night of irresponsible drinking and debauchery is almost never fun, but THB helps make the morning a little less awful — especially when OrderUp brings it right to your door. If you're not one to order in, though, the short walk to delicious, savory bagel and breakfast heaven is totally worth peeling yourself up off your friend's floor. Per its name, THB offers an awesome assortment of bagels, bagel sandwiches and lite bagel breakfasts, but its extensive menu also includes salads, paninis and assorted sandwiches good for any day-after. Kill the pounding in your head with a hearty breakfast and take the time to drink some water and replenish your electrolytes. Get your greasy-but-amazing breakfast sandwich freak on and then go take a nap, you crazy kid.
Best Men's Team: Basketball/Lacrosse
And the winner for best men's team is… a tie between basketball and lacrosse! Both programs have made tremendous strides in recent years and have given Tigers fans an enormous sense of pride.
Head Coach Shawn Nadelen led Towson to a 16-3 record, a conference championship and an appearance in the NCAA quarterfinals last season. This year, the team is ranked 12th in the country.
On the hardwood, Towson surprised many folks last year by finishing 20-13. This season, the team was picked to finish second in the conference and almost upset in-state rival Maryland.  Both teams are certainly worthy of the honor for best men's team.
Best Women's Team: Lacrosse
Last year, the Tigers missed out on making the conference tournament and finished the season just 6-12-1, but a highlight was the performance of redshirt junior goalkeeper Taylor Sebolao. Sebolao was named Third-Team All-CAA and recorded five shutouts tying her for fifth-most in a single season.
Another women's that is worthy of the honor is lacrosse. Last season, the team went 16-4, won a conference championship and won an NCAA tournament game over Old Dominion 16-5.
Head Coach Sonia LaMonica has maintained consistency in the program, leading the team to six straight conference championship appearances.  
Best Male Athlete: ? 
C'mon Towson. Really? There was no clear-cut winner for best male athlete because we didn't get enough votes.
Not to worry, my readers. We'll will fill you in on who is worthy of the prize. In our mind, there is only one winner.
It's hard to argue against Ryan Drenner. Drenner was on the Towson men's lacrosse team that saw one hell of a season. In that season, Drenner recorded 33 goals, 23 assists and 56 points.
Drenner was also named First Team All-CAA that season and to the CAA's All-Academic team.
This, Towson, is above and beyond the best male athlete.
Best Female Athlete: Raven Bankston
This was a tough decision, but ultimately I agree with our voters. The best female athlete is… Raven Bankston of women's basketball. In the 2015-16 season, Bankston started 29 games, averaged 15.5 points per game and scored 466 points. On the defensive end, Bankston recorded 70 steals and 11 blocks.  This year, the senior guard is helping Towson to see massive improvements on the court. In 20 games, she has averaged 17.8 points per game and has recorded 53 assists.
Best Coach: Ambrose
This is a really hard choice, I am not going to lie. However, the winner of best coach goes to Rob Ambrose.  
In 2011, Ambrose led the team to a CAA Championship and in 2013 he put Towson football on the map by taking the team to Frisco, Texas, to represent in the FCS National Championship game.
In the sports universe, we live in a, "what have you done for me lately" kind of world and last year Ambrose won three straight games to end the season despite dealing with a massive amount of key injuries.
Despite a 4-7 record, Ambrose got the best out of what he had making him a worthy winner of Towson's best coach.